If you are looking for the best Christmas umbrellas you can surprise your loved ones, friends, and family with then you are at the right place. In this post we have researched and compared some of the best umbrellas on the market, comparing their prices to their performance. So, if you are ready, then let's dive right into the list: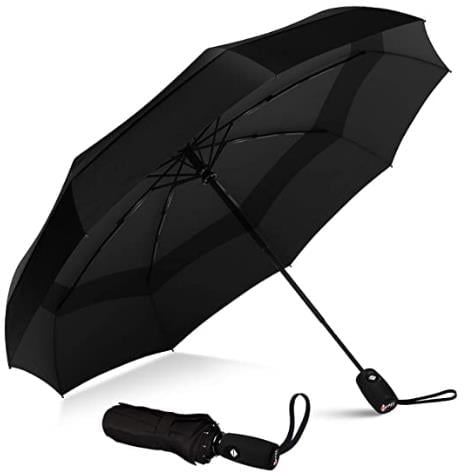 1. Repel Windproof Umbrella
ASIN: BO7KGJVHMM
If you are looking for a sturdy yet stylish umbrella, then this is the umbrella we recommend. This umbrella has been featured on "good morning". America and rated as the best umbrella by Wirecutter.
This umbrella made with lightweight fabric. However, it is sturdy thanks to the nine reinforced fiberglass ribs which ensure that the umbrella stands firm in heavy winds. This makes the Repel Windproof umbrella one of the most durable umbrellas out there. While this umbrella possesses lots of great features, one thing a couple of people have complained about is the size of the umbrella canopy which is just 37 inches in diameter, making it a bit smaller than some of the umbrellas on our list.
However, the best feature about this umbrella has to be the Teflon coating on the umbrella material. This material makes the umbrella water-proof, making the fabric of the umbrella dry always. Trust me, after a rainy day outside, you can shake the umbrella off once you get home, roll it up, and store it, without having to dry it.
This umbrella is 11.5 inches long, which means it can easily fit in your purse or bag with no problem. When you want to use the umbrella,the umbrella can be opened easily in one second. You can make use of the button to project out the 37 inched canopies. Also, the button makes it easy for you to collapse the umbrella back down to the 11.5-inch size.
Thanks to the long nature and textured design of the handle, you are assured an excellent grip regardless of the size of your hand. You have a wide spectrum of colors and color combinations to choose from which makes you stylish and ensures that you stand out among the crowd.
It is affordable but yet durable to stand all weather conditions. Also, because the manufacturers trust the durability of their product, you are offered a lifetime replacement warranty.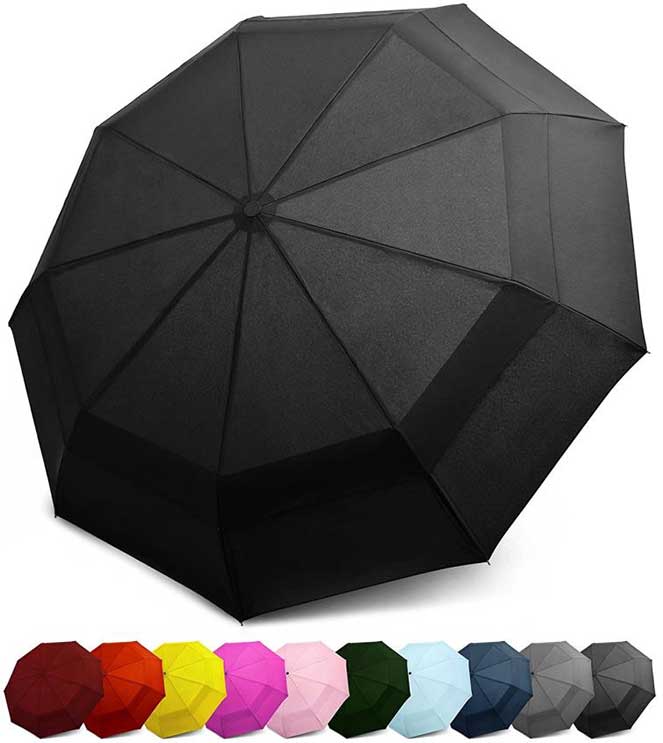 2. EEZ-Y Compact Travel Umbrella
ASIN: B08HZJK5X1
This umbrella is redefined and redesigned to provide better to users. Everything about this umbrella is crafted to perfection and with the utmost precision to details.
If you are looking for an umbrella that guarantees premium functionality and quality then here you have it. When you first set eyes on this umbrella, the first thing you will notice is the double canopy construction. This umbrella uses state-of-the-art technology and high-grade super water repellent 210 T fabric materials to ensure that you never get wet from the rain when using the umbrella.
The frame is made from stainless steel and fiberglass, which makes the frame rust-free and break-proof. The frame is also built together with the double canopy to ensure that the umbrella withstands extreme weather conditions such as heavy rain, and up to 55 MPH of wind.
Its design makes it durable and eliminates the need for you to change your umbrella every season. The dual canopy mechanism also offers double protection, such that the main canopy utilizes a series of vents that allow wind to pass through, and the secondary canopy works on keeping the water out.
The large rubberized handle keeps your grip firm during heavy weather conditions . Also, the automated handle makes opening and closing the umbrella hassle-free.
Small enough to fit into your handbag or school bag, making it the perfect companion during rainy seasons. It also comes in a wide variety of colors to match your personality and style. It comes with a 90-day money-back guarantee policy and a lifetime repair warranty.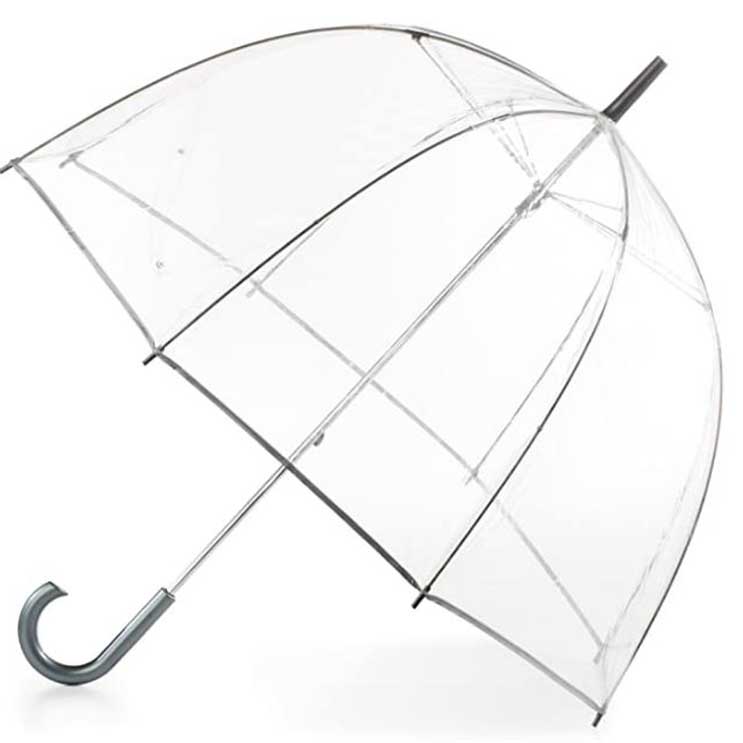 3.Totes Signature Clear Bubble Umbrella
ASIN: B000YB7T04
Unlike the first two umbrellas, this umbrella isn't made for high wind areas because of the PVC canopy and steel ribs. And can handle only up to 45 MPH wind speeds. However, it offers full coverage with an opened diameter of 5 inches.
What most people love about this umbrella is its transparent canopy. It allows you to see what's going on around you, while you are running under the rain. And also makes it easy for others to identify you. The transparent canopy becomes a great feature when you want to show off your new hairstyle. And you want others to see you while you protect yourself from the rain or sun.
The bubble design of this umbrella makes it usable by one person at a time. So offering shelters to others won't be possible with this umbrella.
However, this umbrella performs greatly when you need to protect yourself fully from winds or rain coming in the usual directions. It also makes this umbrella fashionable, making this umbrella both functional and stylish. You can smell elegance from the polished matte finish of the shaft making this the perfect umbrella for people who love style and fashion.
However, closing this umbrella can be quite difficult if you're new to it. And you need to expect some struggle before you can get the umbrella closed, and this is due to the canopy design. The pvc canopy makes this umbrella easy to wash by hand when dirty or use a rag to clean it to improve visibility when wet.
The umbrella is easy to hold thanks to the acrylic handle, which also provides a comfortable grip even when wet.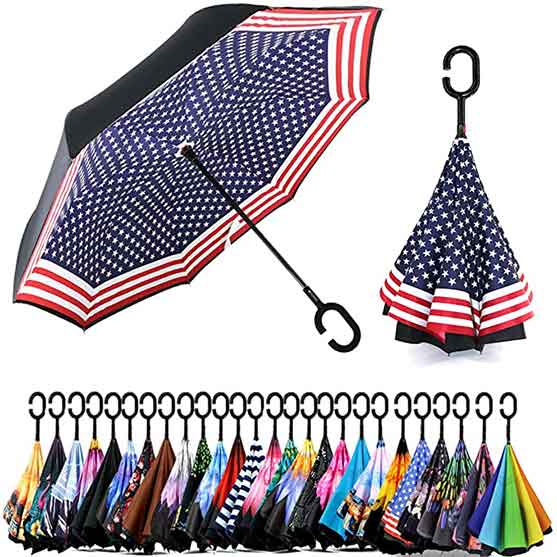 4. Spar. Saa Double Layered Inverted Umbrella
ASIN: B07MY242VP
This umbrella takes the design of conventional umbrellas to a whole new level thanks to its reversed opening and folding design which is made to stop the water from scattering all over the floor or inside a car. With this design, you can easily get into your car without getting stuck on the car door and soaked in the rain.
There is no need to squeeze or even shake off the umbrella after a rainy day to make it dry. All you need to do is to fold the wet layer into the dry layer. You can easily place the umbrella anywhere you like without worrying about it falling. This is because this umbrella can stand its own. This is possible due to the 8 steel rib frame, which is turned into 8 legs when closed.
Besides the unique standing feature, this umbrella is windproof, and the non-automatic opening and closing control make this umbrella safe to use. And you can open/close it by pressing a button.
The design of the umbrella is made such that you do not accidentally poke anyone's eye. This is the perfect Christmas gift for anyone who loves unique things.
The canopy of this umbrella has two layers. The first layer being UV-proof, which means the umbrella offers UV protection to the user and makes you stay cool even under the sun. The canopy is also supported by double-layered ribs, and black electric ribs making it sturdy to stand that sun, and this makes it perfect for anyone whose skin is sensitive to the sun. The second layer is the nano-layer which blocks heat.
My favorite feature about this umbrella is its c-shaped handle which allows the umbrella to hang off your wrist while you engage in other activities with both of your hands.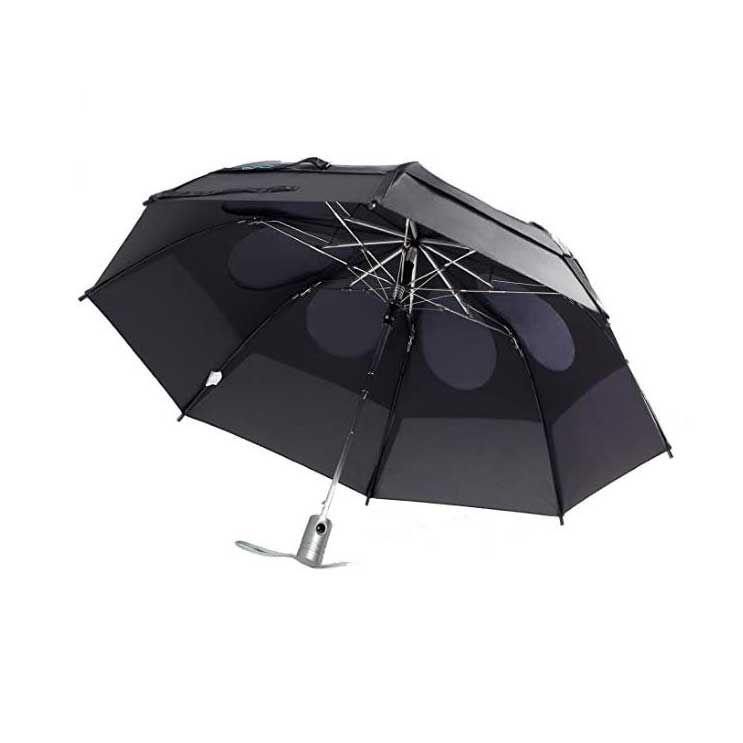 5. Gusbuster Metro 43-inch Automatic Umbrella
ASIN: BO0OAMXQVI
This is the perfect umbrella gift for anyone who lives in areas with high winds. Because it is designed to withstand any high wind conditions and can withstand up to 55 MPH winds. This is possible because the ribs are made of tempered-hardened steel, and arrayed in a hexagonal pattern which ensures that the ribs never bend no matter how gusty it may get.
The canopy is made of 100% nylon which makes the umbrella water-resistant- making it dry out quickly-and durable. My problem with this umbrella is that the handle and joints aren't as durable as the canopy itself, because it gets a bit wobbly during heavy winds.
Also, this umbrella is bulky and heavier than the top 4 umbrellas on the list when collapsed. However, if you are looking for a windproof umbrella, non can be compared to this umbrella.
It has a 43-inch canopy which provides excellent coverage, most especially for tall people. This umbrella collapses down to 16 inches, which means it can only be placed inside a backpack.
It is a bit pricey but a great gift for someone in Florida, and other areas with high wind speeds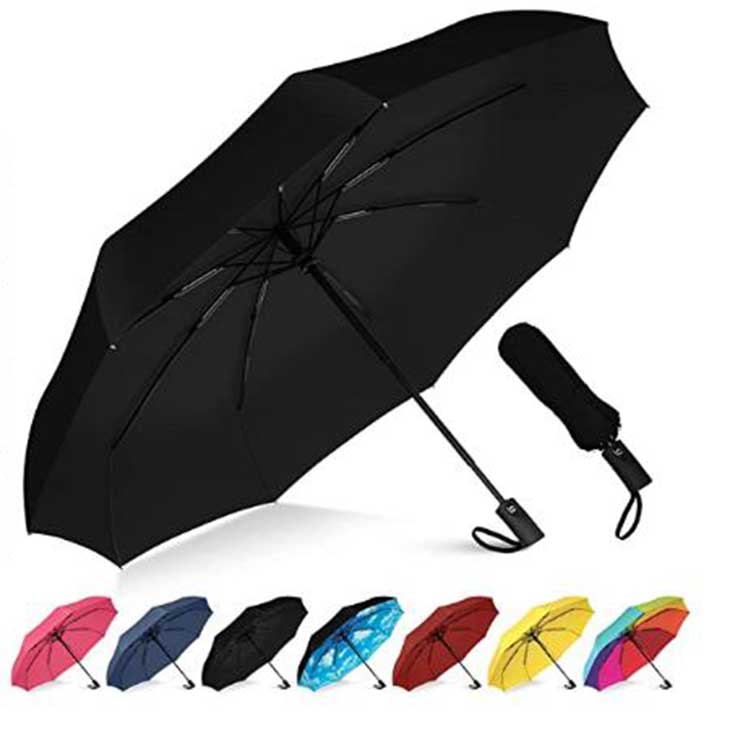 6. Rain-Mate Compact Travel Umbrella
ASIN: BO8N4LV67W
This umbrella is stylish, lightweight, and foldable, and an excellent all-weather protector. It has a three-fold ergonomic design with the 42-inch canopy folding down to 12-inches long, making it easy to carry around and ideal for everyday use.
The handle has a one-touch button which helps you to automatically open and collapse the umbrella when necessary. This means you can easily fold the umbrella with one hand, while you do another thing with the other hand, and you wouldn't also have to worry about getting your fingers pinched when closing it.
With failsafe flip technology and the flexibility of the ribs, they are safe from breaking or bending during a strong wind. Waterproof, and it has a heavy-duty shaft and metal frame, which are reinforced by 9 flexible ultra fiberglass ribs.
This is the perfect compact umbrella gift for anyone, who wants something compact to travel with. This umbrella comes with a travel sleeve to protect your items from getting wet. This product is made to last, hence it comes with a lifetime replacement warranty.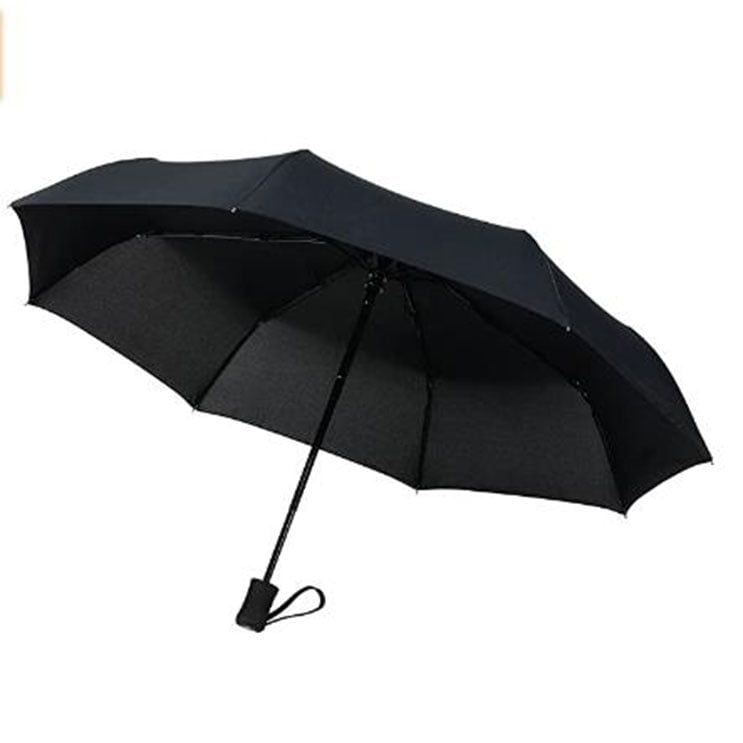 7. Crown Coast Travel Umbrella
ASIN: B015ILHPSU
This is the best heavy-duty umbrella on our list. It is built from solid materials such as rust-proof stainless steel, and mold-resistant nylon fabric.
However, the design is made to last.
This umbrella can withstand winds of up to 60 MPH. The nylon material used for the canopy makes it water- repellent, and also abrasion-resistant. These ensure that the umbrella lasts for years. This makes it the perfect Christmas gift for someone looking for an umbrella they can forever.
The canopy design is the outstanding feature of this umbrella, to the extent that the canopy can be bent, without even ruining the umbrella. This because the metal frames are flexible and resilient, and they will snap back to position no matter how far they bend, leaving the nylon canopy damaged. The frame is made with stainless steel, and it is coated with an anti-corrosion layer ensuring the longevity of the umbrella.
With just the press of a button. this umbrella will snap out. However, you might have to add some force when pressing the button of the umbrella. The same button also closes the umbrella automatically the rubber handle provides an excellent grip in wet and even cold weather conditions. It is affordable, and the perfect umbrella for anyone looking for an umbrella that will last a lifetime, and can withstand any wind storm.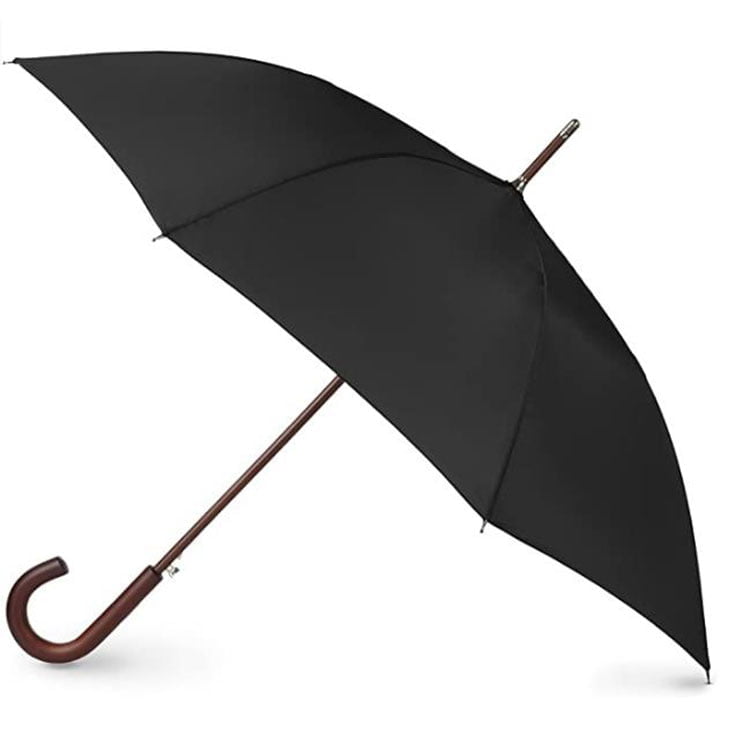 8. Totes Wooden handle j stick Umbrella
ASIN: B005FOJARO
The classic look of this umbrella makes it the perfect complement to formal dresses while making sure you are dry at all times. You have a range of different styles and prints to match your personality.
This is the perfect umbrella gift for anyone who wants a classic, and stylish umbrella. The ergonomic canopy gives the user the maximum coverage needed for any kind of weather. Thanks to the engineered NeverWet technology, which uses an invisible coating to repel water 4 times better than other brands.
It employs a Titan max strength technology which ensures that it lasts long. The retro and elegant looking handle offers you a secure when you battle torrential rain or strong wind. The middle tip makes the umbrella impact-resistant, and it reinforces the durability of the umbrella after extended use. It is strong and lightweight making it the perfect companion against all weather conditions.
It has an auto-open mechanism which can be utilized with just one press of a button. This classy umbrella will keep you cool door to door wherever you go. This umbrella is backed up with a manufacturer's lifetime replacement warranty.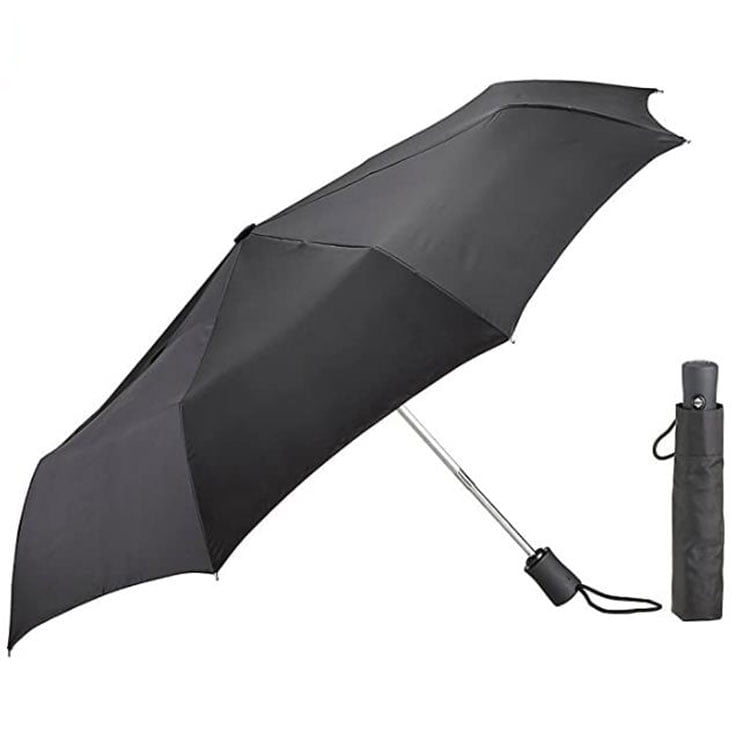 9.Lewis and Clark compact travel umbrella
ASIN: B000F1RGBU
This umbrella is one of the lightest you will get on the market. So if you want the perfect Christmas gift for a teenager, then this is the umbrella to get for them since it wouldn't be difficult to carry around. Weighing just 14. 4 ounces, and folding to a length of 11 inches, this umbrella is perfect to carry around in any situation.
When extended to its full size, you get 38-inches of coverage from the rain or sun. The shaft and ribs of the umbrella are sturdy, and even though it might not be the sturdiest on the market it is sturdy enough to protect you when needed. Flexibility is a feature lacked in the shaft and ribs of this umbrella. This is because they are made of pure metals with no fiberglass.
The canopy is made of polyester, making it weigh less than most nylon umbrellas. the polyester canopy makes it perfect to prevent the growth of mold and mildew on the umbrella. The fabric also has quick-drying properties, and you wouldn't have to dry the umbrella for minutes or hours to use it again- you can just shake it up and fold it into your bag with no worries.
The attached carry loop on the storage sleeve makes it easy to lug this umbrella around even on the waist. purse, or bag it has an automatic opening which makes opening the umbrella easy and closing the umbrella effortless.
With an affordable price tag. this is a solid choice for someone looking for something lightweight affordable, and durable- even though it isn't as durable as the others on the list. The lightweight feature makes this a great gift for people who live in areas with frequent rain.
10. The Weatherman Travel Umbrella
ASIN: B08593HDML
This umbrella is the most expensive on our list, but worth the money. It has a minimal yet functional design, designed to withstand any weather condition. The canopy is built with lightweight water-resistant fabric that is strong enough to withstand all weather conditions. The canopy is supported by industrial reinforced ribs to prevent the umbrella from breaking in high wind conditions.
The umbrella is storm-proof and can withstand up to 45 MPH wind speeds. The umbrella is sturdy and made with durable materials. Besides that it is made with 80% recycled fiber, making it the perfect umbrella gift for minimalists, and people who care about the environment.
The handle is molded such that it fits perfectly in your hand giving you the best grip you need to withstand those high winds. Also, with just a press of a button, you can easily automatically open the umbrella to its full 37.8 diameter coverage, or close it to its 11 inches length, to fit perfectly into your purse, bag or backpack. The wrist strap makes it easy for you to carry this umbrella anywhere.