Christmas time is a season of excitement, merriment, carols, and of course, sharing of gifts. Sharing Christmas presents with our friends, family, neighbors, clients, and colleagues is such an age-long Christmas tradition that we dare not do without them. Gifting gifts is a way of appreciating the people who are so dear to us while also commemorating the season's joyful cheer. It's a way to show love and reach out to those who may not be as privileged as we are.
While it's a beautiful and commendable tradition, we can quickly run out of Christmas gift ideas, and making a choice instantly becomes a burden. Corporate gift ideas, as well as regular gifts between friends and family, can quickly get boring. How about a unique, nice umbrella gift this year? Umbrellas are not only cute, but they are also functional items for Christmas run-around. There are umbrellas for everyone from children to adults, and if you need a Christmas gift idea that's friendly on your pockets, here you have it!
15 Umbrella Gift Ideas for Christmas
When it comes to umbrellas, there are so many options to pick from. To get the best gift umbrellas for your guests, you'd have to consider their genders, ages, personalities, and a whole lot more. You'd also need to check out the quality to make sure that your efforts are worth the while.
Choosing the best types of umbrellas among so many options can be a daunting task, but we've got you! We decided to ease your burden by compiling the 15 best gift umbrellas that are just perfect for Christmas. They are cute, affordable, quality, and just right to suit different categories of persons you'd love to give them to. Take a look at them, make your picks, and thank us later: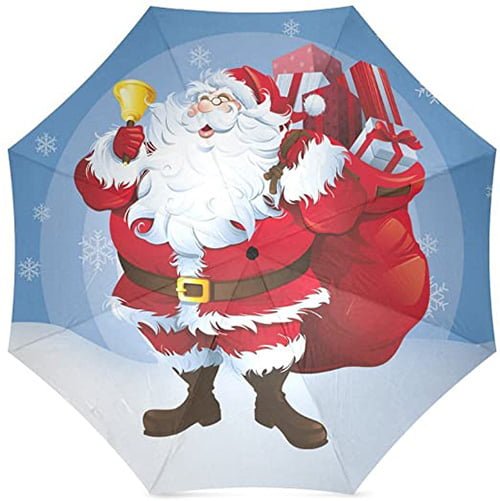 Did you want an actual Christmas umbrella? Well, you got it! This Folding rain umbrella is for no other season but Christmas, with the beautiful Santa Claus image boldly imprinted on it. It's just the perfect Christmas gift for your loved one. It's made of polyester, a great waterproof material for the rainy season, and with its eight strong fiber-made ribs, you can be sure of its strength and durability. Its anti-slip plastic handle helps to keep users comfortable even after long hours. The umbrella is perfect for everyday use, and your recipients (adults and children alike) would always remember how thoughtful you were in blessing them with a present that is just right for Christmas.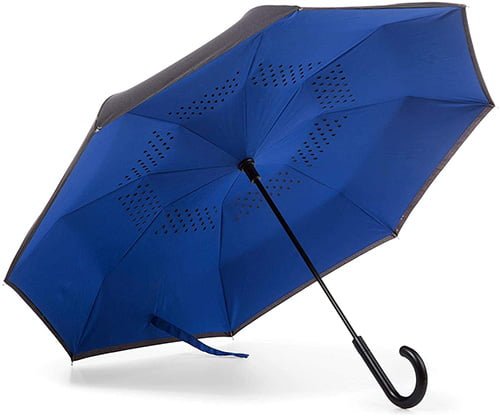 Unconventional. Innovative.  Stylish. Classy. If these four words describe your guests, then the totes inBrella Reverse Close Umbrella is just what they'd love for Christmas. This umbrella isn't regular; unlike the traditional umbrellas, the totes inBrella has a revolutionary reverse close design that closes inside-out to avoid water dripping. It has a Never-wet invisible coating that repels rain and keeps it as dry as possible at all times.
What's more, it's easy to store, portable, windproof, and stylish too. Your friends and family would be happy to get this gift. They'd feel special and will always remember this special Christmas gift for a long while.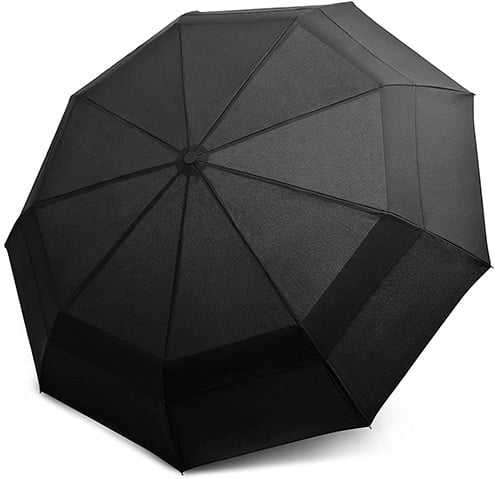 The Windproof Travel Umbrella is the best weather accessory for guests who would be doing a lot of traveling this Christmas. It's designed to withstand the most unpredictable adverse windy conditions, all thanks to its vented double canopy. The vents allow wind to pass through it without destroying it, while the double canopy reduces the risks of breaking in strong winds. It's a lightweight, durable, anti-rust made of fiberglass and top quality stainless steel. It's a must-have for everyone this season.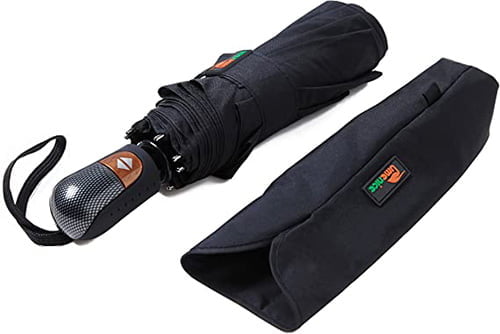 The small-sized Umenice Travel Umbrella comes with a beautiful packaging that allows you to flaunt it even when not in use. It's very portable and can fit into average-sized handbags and briefcases. Despite its small size, it remains strong and durable; the reinforced fiberglass ribs make sure of this. It's made of polyester and, as such, is water-resistant, providing you with maximum comfort as it rains. Umenice travel umbrella is perfect for travelers, too, as it's bendable and would fit into luggage without hassles. It'd make for a great Christmas present for your loved ones and colleagues.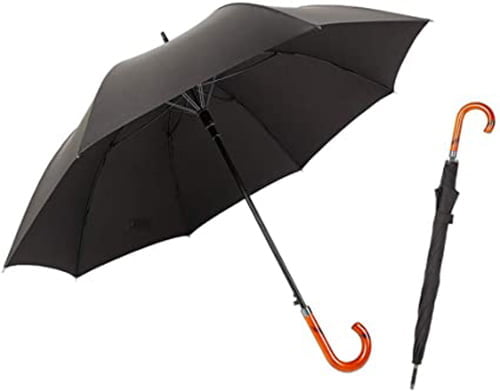 This one is a classic, and if conventional and simple is your recipient's style, they will fall in love with the Stick Umbrella Oversize Windproof Umbrella. Its ergonomic handle is anti-slip and is comfortable to hold. With its auto-open function, you can open this umbrella in a rush or split seconds when the rain starts abruptly.  It has a sturdy frame structure that makes it durable and robust. It's made of sixteen fiberglass ribs with an aluminum alloy central shaft to keep it steady even in strong wind. The canopy is made of high-density fabric, and it's treated with a special water-repellent outer coating, which means it does not retain moisture and dries as soon as the rain hits.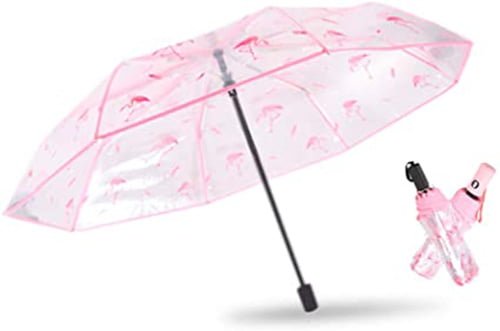 If you think of top-notch, high-quality, and detailed artistry, then the Flamingo Umbrella would leave you in awe. With its popular and yet unique flamingo print design in attractive colors, you are bound to be the connoisseur of all eyes any time, any day, and anywhere. This umbrella combines fashion, convenience, and top-notch functionality in one and would easily be everyone's favorite umbrella at first glance. You shouldn't let its delicate appearance fool you;  a lot of work and intentionality went into producing this umbrella; it's as durable as durable can be. It's portable, translucent, and waterproof and is a perfect choice for a Christmas gift to friends, family, and colleagues.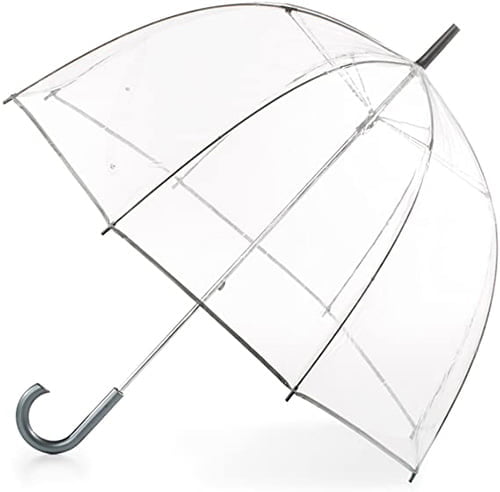 Once again, we are here for fashionable women, and we've got the perfect umbrella gift for your stylish girlfriends, female family members, and female clients this season. It's the clear, trendy, and durable bubble umbrella! This umbrella is for the days you wouldn't let the rain stop your shine. It's the best fashion umbrella for weddings, birthday parties, graduation, etc., when you need to flaunt your style — rain or no rain.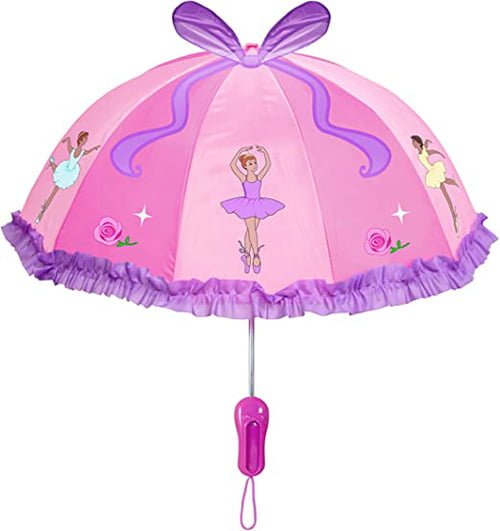 You didn't think we'd leave baby girls out of the Christmas goody package, did you? The little girls in your life deserve a Christmas gift this year, too, and we've found just the right ones for them.  The Pink Ballerina Umbrella would endear you to the hearts of those adorable princesses. Kids will surely love the fun ballet dancers, pop-out ribbon, and pointe shoe handle designs. This umbrella will ignite their innovative capabilities and would inspire lots of fun for them. The umbrella is lightweight and, as such, can be conveniently carried around by kids and toddlers alike. It also comes with a Velcro strap, push-button closure, and safety caps to protect their faces.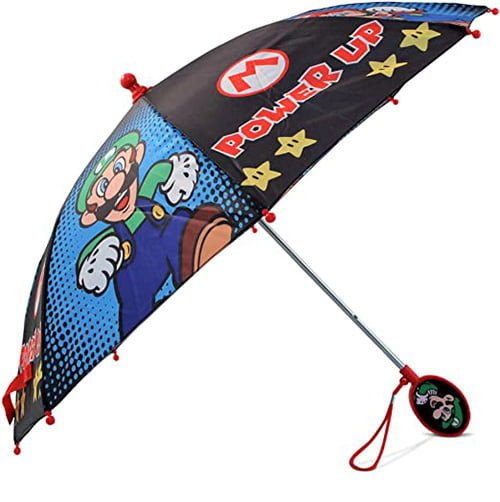 Here's one for the little boys. The Nintendo Little Boys umbrella, just like the Pink Ballerina for girls, will encourage imaginative creativity in boys. It has the Velcro safety strap for easy storage and a flap closure too. So you can be sure that your little boys are safe while they're having fun with their umbrellas. The designs are fascinating, and the quality is next to none.  It's made of polyester, which makes it water-resistant and durable. It's easy to wash, too, so you don't have to worry about your little boy walking around with a dirty umbrella.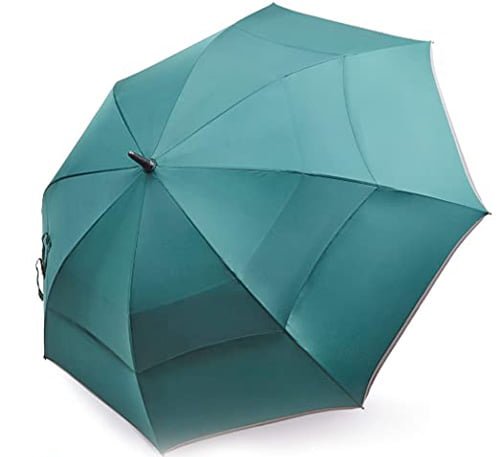 This heavy-duty, foldable, double-canopy, windproof, waterproof, and UV protection large stick umbrella offers so much functionality that it's too good to be true. It's suitable for Christmas because it provides you maximum protection from the sun and rain as you catch up on all the fun outdoor activities that accompany the yuletide season. Its reflective strip design provides added protection for you at night and would help you get noticed easily to avoid people bumping into you. And during the day, it's UV protection shields your skin from the harsh effects of the ultraviolet rays. This umbrella is strong, and it's made with a vented double canopy to enhance the durability even in extreme climes.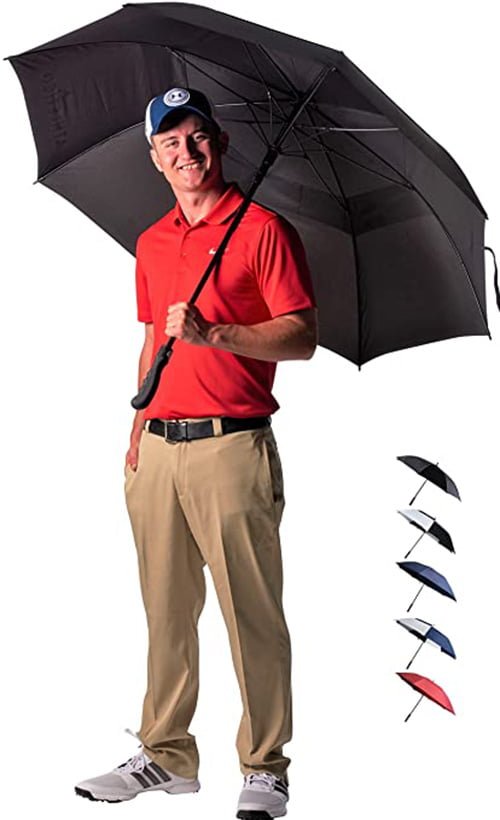 The Athletico automatic open golf umbrella is a 62-inch professional-grade umbrella for golfers. So if you have a golfer on your list of Christmas gift recipients, you already know what to get them. This umbrella offers maximum protection from rain and sun and is large enough to cover two golfers. It's also lightweight, and fiberglass ribs make it durable. It comes with a rubber handle that ensures a firm, comfortable grip and a carrying sleeve to help golfers move them around with ease when not in use.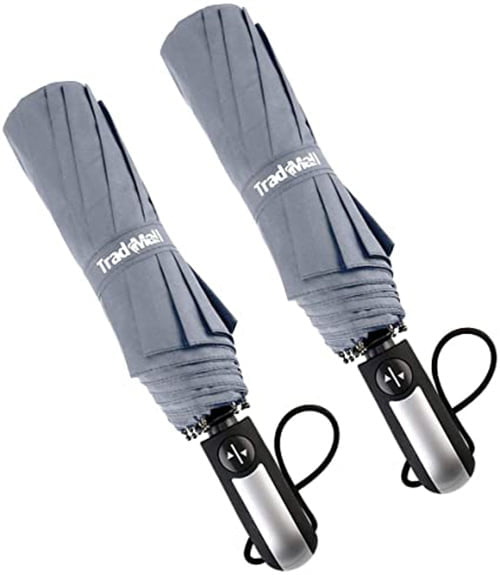 We included something nice for couples too. The Tradmall Two-pack Travel Umbrella comes in slightly different sizes, making it a thoughtful Christmas gift idea for a married couple. Older children and teenagers can use them too. This umbrella is rated very high in terms of value for money, thickness, durability, and sturdiness.  Its features include an ergonomic handle with a 2-in-1 open and close button, fiberglass shaft, one-piece umbrella bead, and ten reinforced fiberglass ribs for maximum protection against extreme elements. It's a family-friendly umbrella that your guests will appreciate.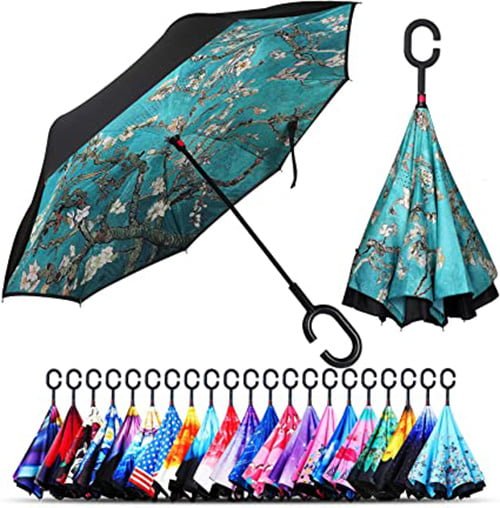 The Owen Kyne Folding Inverted Umbrella solves the dripping and wetting problem that many umbrella users hate. Unlike traditional umbrellas, this umbrella is reverse folding double-layer inverted and wouldn't get your stuff wet from its dripping when closed shortly after a rainfall. It's made of high-quality, durable material and is lightweight too. One exciting feature is the Free-Grip Frosted Handle that keeps your hands free and enables you to handle other tasks while in use. Your friends, family, neighbors, and colleagues will appreciate this wonderful Christmas gift. It's a long-lasting, automatic open close umbrella with a slip-proof handle and strong metal frame that keeps it steady in windy conditions.
This is one portable and convenient umbrella that everyone should have. What a fantastic opportunity you've got to make people feel loved by gifting this little pack of convenience to them this Christmas. Its compact folding feature makes it easy to hold or carry around in small bags. It's beautiful and simplistic design makes it perfect for any occasion.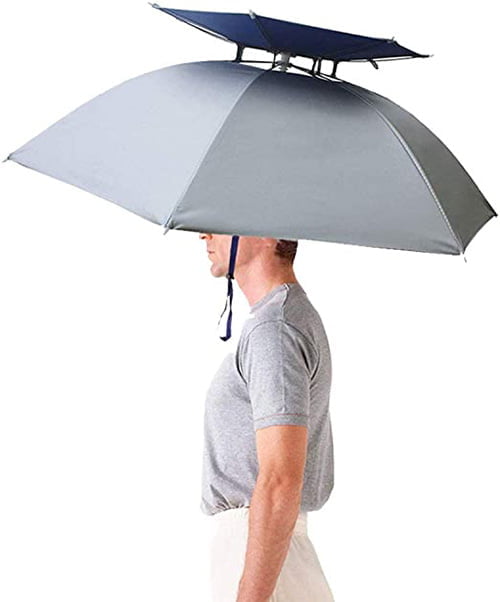 We realize that the holidays give so many of us ample opportunity to relax and take on specific activities we never had the time to do. This is why we have included the 36" Diameter Double Layer Umbrellas as Christmas gifts for your friends who love to garden, cycle, paint,  hike, or undertake any outdoor activity that requires both hands. It's simple— you open the umbrella by pulling the rope and turning the plug through the hole, and then you place it securely on your head by fastening a spring-stop lanyard cord lock under your chin. It has a double layer design for better wind protection when necessary. It's easy to use and can be adjusted to suit the head that wears it.
Conclusion
There are many reasons why umbrellas are such fantastic gift ideas for Christmas. First, its versatility makes it suitable for all classes of persons regardless of demographics. Secondly, its affordability and availability mean that you can quickly get them for distribution with little or no planning. If you've decided to gift your loved ones some Christmas umbrellas, you're welcome to pick any design from our beautiful array of top-quality umbrellas. If you're looking to manufacture your Christmas umbrella gifts in bulk, you should contact us at info@hfbrolly.com now. We offer you value for your money and top-notch satisfaction you'd get nowhere else.