Fans of the sport know that there's more to a round of golf than hitting the balls. It's an adventure, a chance to get away from it all and appreciate nature. What could be better than a custom golf umbrella to add to the enjoyment of the day?
These fashionable add-ons shield the wearer from the elements and have many other uses, including advertising, longevity, cost savings, and more. In this article, we'll go over 10 reasons why personalized golf umbrellas are essential for making a splash on the course.
Grab your clubs, because we're going golfing — specifically, golfing with personalized umbrellas!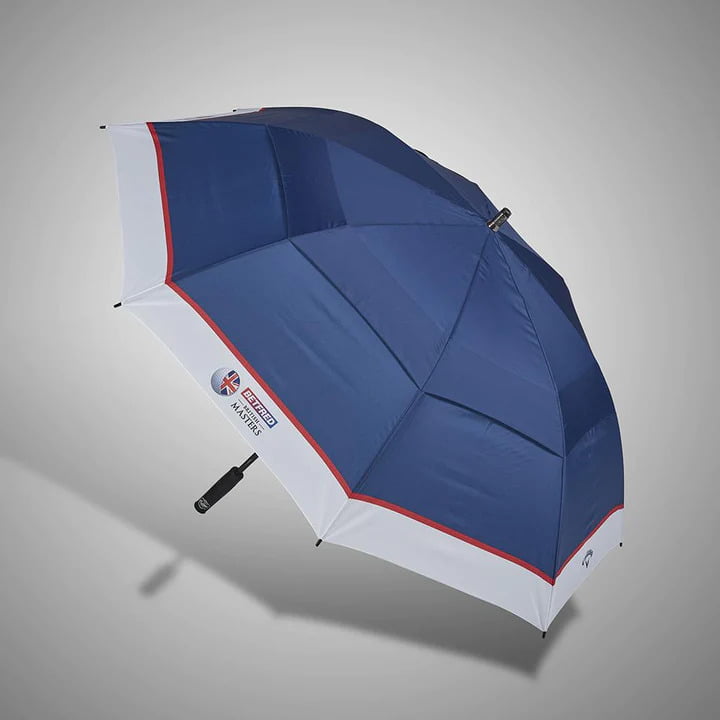 Benefit 1: Protection from Rain and Sun
You don't want to be caught out in the rain or under the scorching sun when you're out on the golf course. Luckily, personalized golf umbrellas are here to help! These umbrellas are both large enough to shield you from the rain and strong enough to withstand the sun.
Golf umbrellas have wider canopies to keep you dry in severe weather than conventional umbrellas. The long-lasting fabric is very water-repellent, so you may play in comfort. Don't forget about those blistering summer days; these umbrellas block the sun's rays, lowering your risk of sunburn and heat exhaustion.
Extra protection is provided by the larger size of custom golf umbrellas. The larger cover protects not only you, but also your bags, clubs, and other gear. This will prevent any water damage to your equipment.
In addition, these adaptable additions can be swiveled to face either the rain or the sun. They are very stable even when tipped to face the sun or away from high winds.
Benefit 2: Enhanced Visibility for Branding
Brand promotion relies heavily on being seen. Personalized golf umbrellas are a clever and eye-catching way to spread the word about your company.
These umbrellas have a sizable blank area that may be imprinted with a company's name, tagline, and other branding components. Whether it's used on the golf course, at an outdoor event, or just because it's raining, your logo will get plenty of exposure.
Customized golf umbrellas are an excellent way to make a statement on the course. Because of the attention-grabbing nature of their brilliant hues and intricate patterns. People walking around with these eye-catching umbrellas bearing your logo will certainly attract attention.
In addition, golfers who use your branded umbrellas in games or tournaments will essentially be carrying advertising materials for you. People will see your brand and message as they walk the course with their branded umbrellas held high over their heads.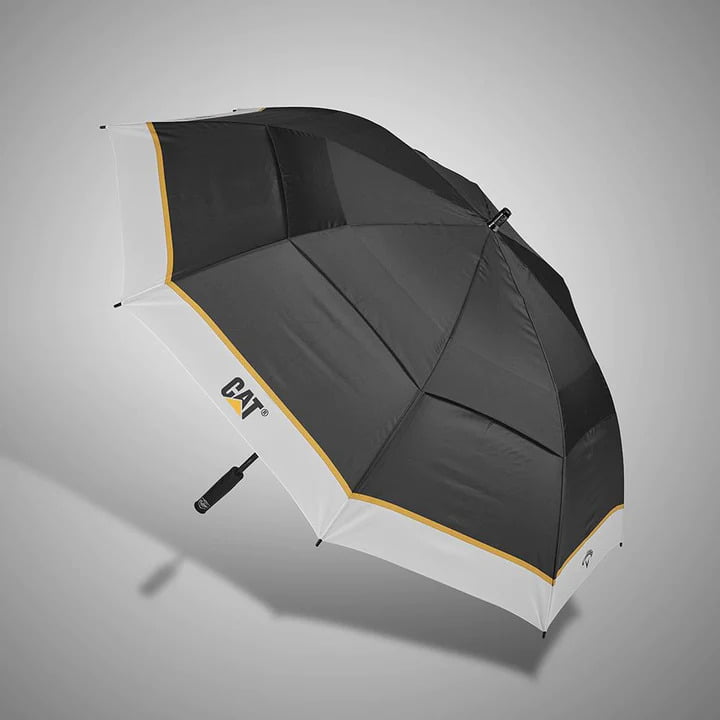 Benefit 3: Durability and Strength
These umbrellas' fiberglass or carbon fiber frames, for example, offer exceptional protection from the wind. The durable design of the umbrella makes it resistant to being blown inside out by strong winds, so you may use it with confidence on the golf course or any place else you might need it.
Custom golf umbrellas are extremely robust, both in terms of wind resistance and rain protection. Many of these umbrellas have canopies constructed from coated, high-quality nylon fabric that is impervious to rain. Your bespoke umbrella will keep the rain off of you even if you get caught in a monsoon while out on the golf course.
Custom golf umbrellas also have durable and ergonomic handles. Whether it's a rubberized handle or an ergonomic one, these additions do double duty by making the umbrella easier to hold onto and more durable over time.
Any golfer who wants to feel safe playing in all kinds of weather, whether on the greens or elsewhere, should invest in a sturdy custom golf umbrella.
Benefit 4: Easy to Carry and Lightweight
In order to be convenient and easy to transport, custom golf umbrellas are made in a compact size. Because of their foldable design, they may be easily stored in a golf bag or attached to the side for instant access in the event of a sudden change in the weather.
While they may be lightweight, golfers need not worry about their stability in high winds thanks to these umbrellas. Built with sturdy materials like fiberglass or carbon fiber for the frame, they are surprisingly lightweight for how well they hold up.
Your personalized golf umbrella has a simple mechanism that makes opening and closing a breeze. You may easily open it with one hand by pressing a button or swiping it open, and then return your attention to the game at hand.
Protect yourself from the elements without sacrificing convenience by carrying a lightweight, custom golf umbrella with you as you make your way across the fairway in the middle of the day. For maximum pleasure with each swing, simplicity and ease of use are essential.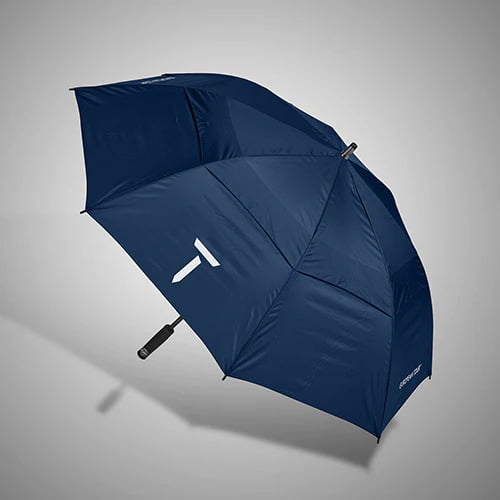 Benefit 5: Cost-Effective Promotion Tool
Among the many benefits of promotional custom golf umbrellas is their low cost. Custom umbrellas are a cost-effective alternative to more traditional forms of advertising like billboards and television ads. Cost-effectively spread your message to many people!
The fact that these umbrellas will last for a long time means that your advertising will, too. Custom golf umbrellas are more long-lasting than one-time-use flyers or pamphlets, as they will spread your brand each time they are utilized.
Golf umbrellas have a lot of space, so you can put your logo, business name, and contact information right up front. Your brand will be more noticeable in busy settings like public golf courses and other outdoor events.
In addition, giving away promotional custom golf umbrellas to potential consumers or clients is a great way to build rapport and make a positive impression. Displaying concern for their well-being and comfort while quietly promoting your company is a win-win.
Benefit 6: Variety of Styles and Colors
A wide variety of styles and colors are available, so you may choose the perfect umbrella no matter your own style. There are many options for customized golf umbrellas, so you may find one that speaks to your brand's aesthetic or your own sense of flair on the green.
These fashionable alternatives are also appreciated by recipients, whether they are business associates, friends, or tournament competitors.
Not only will you be providing them with a useful accessory, but you'll also be showing that you've taken the time to consider their unique tastes by selecting a bespoke golf umbrella in their favorite color or pattern.
With so many options, it's simpler than ever to choose a design and color scheme that complements your branding efforts. So why settle for regular when you can have something made especially for you?
Benefit 7: Customization Options
One of the main advantages of tailored golf umbrellas is the ability to personalize them. There is a wide variety of umbrellas available, allowing you to find one that fits your brand's aesthetic or your own personal preferences.
Customization options are practically limitless. Fabrics, prints, and patterns are all at your disposal, allowing you to create a one-of-a-kind piece. Custom golf umbrellas provide you the ability to express your individuality, whether you want to flaunt your company logo or add flair with a striking graphic design.
You can alter not only the color and pattern of your umbrella but also its size and the material of its handle. There are a variety of options available, from traditional hardwood grips to contemporary ergonomic designs.
Umbrella size is yet another modifiable feature. Standard golf umbrellas have a diameter of around 60 inches, but you can choose a larger or smaller size as needed.
Benefit 8: Good Investment Value
There is a significant premium placed on custom golf umbrellas. They serve a useful purpose, but they also look great and sound high-end, making them welcome gifts. Because of this, the company will get greater exposure as consumers would keep and use the umbrellas.
In addition, there is a lot of room for your company's logo on a bespoke golf umbrella. There's plenty of room for your logo or message on the canopy, so you can make a design that stands out no matter where it goes. This raises the umbrella's profile and encourages users and onlookers to become more familiar with the brand.
Personalized golf umbrellas can be used for a wide variety of activities. They are useful for both promotional purposes at events like golf tournaments and corporate functions and for personal use at events like picnics and excursions to the beach. Your brand's message will be seen by more people, not just die-hard golfers.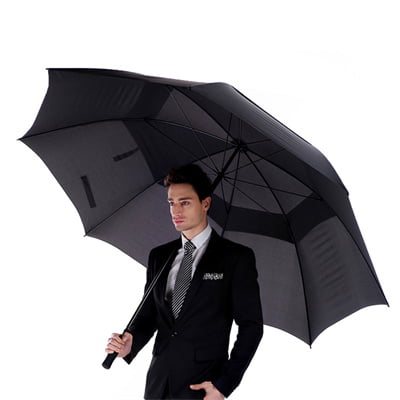 Benefit 9: Versatility
Custom golf umbrellas are advantageous because of their adaptability. These accouterments are not limited to their use on the golf course, making them a valuable asset to have.
Custom golf umbrellas are a great example of adaptability, and their size is just one example.
Although larger than a standard umbrella, they nevertheless fold up into a manageable size for portability. Because of this, you may use them not just for golf, but also for other outdoor activities like walking the dog or running errands without worrying about the weather.
Benefit 10: Long-lasting Advertising
Think of the impression your brand would make if someone gave them a personalized golf umbrella featuring your company's emblem. They use it when it's raining out and they're out on the golf course or just walking down the street.
Your brand will be exposed to a much wider audience than with traditional advertising because your customers will be wearing your logo around town.
Unlike other forms of advertising, which may only be seen by potential customers for a few seconds at a time, personalized golf umbrellas will keep spreading the word about your company every time they are used. These high-quality umbrellas will keep your brand in people's minds whether they're being used at outdoor events, sporting activities, or even just on a regular commute.
The potential audience for such ads should also not be overlooked. Golf courses attract both serious players and casual observers, so they're a great place to spread brand awareness.
When you can invest in personalized golf umbrellas that will get your message seen for a long time, why settle for temporary forms of advertising?
These promotional items will help your business stand out from the crowd and stay in the minds of consumers thanks to their long-lasting impression and numerous exposure opportunities.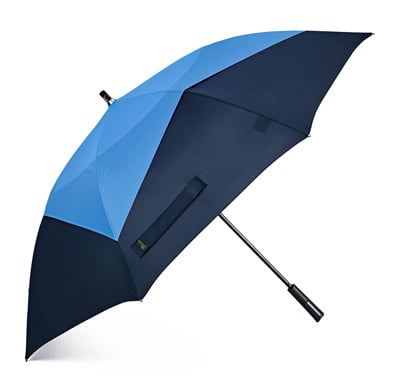 Available Customization Options
The options for personalized golf umbrellas are practically limitless. If you want your umbrella to really stand out from the crowd, you can personalize it any way you choose.
You get to choose the shade of umbrella you want. There is a color out there for everyone, whether they choose something bright and daring or something more understated and sophisticated. You can pick everything from the timeless black to the dazzling neon green.
The umbrella's canopy is the next possible location for a custom logo or design. You may advertise your company and leave a long-lasting impact on everybody who sees it. Your company's logo will look sharp and legible thanks to modern printing technology.
Additionally, extras like windproofing technology and UV protection coatings are available as add-ons. These updates improve the umbrella's appearance and functioning in general, which is a bonus.
Your personalized golf umbrella can be made in any size or form you like. Folding designs take up less space, but larger canopies provide more protection, so there's a style for everyone.
The versatility of custom golf umbrellas makes it simple to design an item that both exemplifies your company's values and protects its customers from the elements on wet days on the course.
How to Choose the Right Custom Golf Umbrella for Your Needs?
There are a few key considerations while shopping for the ideal personalized golf umbrella.
The size of the umbrella should be your first consideration. The average diameter of a golf umbrella is between 60 and 70 inches, making it significantly larger than a standard umbrella. This guarantees that you and your golf bag are adequately covered.
The umbrella's materials should be given some thought next. Options composed of strong materials like carbon fiber or fiberglass should be prioritized. These materials are reliable even in high winds because of their durability and steadiness.
The umbrella's handle is also critical. Rubber or foam handles are wonderful options because they are both soft and easy to grip.
Likewise, look out for conveniences like self-closing and -opening mechanisms. This can make transporting and using the umbrella much less of a headache.
Options for personalization should not be overlooked. Find an umbrella maker that lets you pick from a few different styles so you may brand your product with your company's name.
Why China is the Best Country to Import Custom Golf Umbrellas?
China has emerged as a manufacturing powerhouse around the world, and personalized golf umbrellas are no exception. China is viewed as the ideal location for product imports for a number of reasons.
Production and transportation in China are facilitated by the country's well-established infrastructure. Because of this, you may have faith that your personalized golf umbrellas will be produced and shipped without delay.
Chinese factories have a long history of turning out affordable, high-quality umbrellas. They have the technology and trained workers to provide personalization alternatives like logo printing and different color schemes.
One more perk of Chinese imports is the variety of styles and designs you may choose from. Chinese manufacturers can meet your demand for any color or style of umbrella, from simple black to elaborate multicolored designs.
China also has competitive labor prices compared to many other countries. This allows them to offer low-priced options without sacrificing effectiveness.
Another advantage of importing from China is the abundance of companies there that produce customized golf umbrellas. This will allow you to shop around for the most competitive prices from other manufacturers.
When it comes to importing custom golf umbrellas, China stands head and shoulders above any other country because of its superior production capabilities, competitive price structure, varied product range, and extensive supplier network.
How to Choose the Right Manufacturer for Custom Golf Umbrella
You should check the manufacturer's track record to make sure they've made quality umbrellas before commissioning them. Find a company that has made a name for itself as a custom umbrella manufacturer and has consistently produced high-quality goods.
Customizability is also a major consideration. If you want an umbrella for your company that stands out from the crowd, you need to find a manufacturer that gives you plenty of leeway in terms of design.
Make sure the manufacturer can meet all of your needs, from specialized colors and designs to imprinting your logo on the canopy.
Selecting a manufacturer with strict quality controls is also important. You need to have faith that the umbrellas they make are durable and can survive a wide range of climates. In your search for a manufacturer, prioritize those who utilize high-quality materials and do stringent quality checks at every stage of the manufacturing process.
Think about the prices and lead times of various manufacturers as well. Although price alone should not be considered, it is important to strike a balance between the two.
Consider the feedback of previous buyers. Look for reviews of the manufacturer online or contact some of their prior customers for feedback.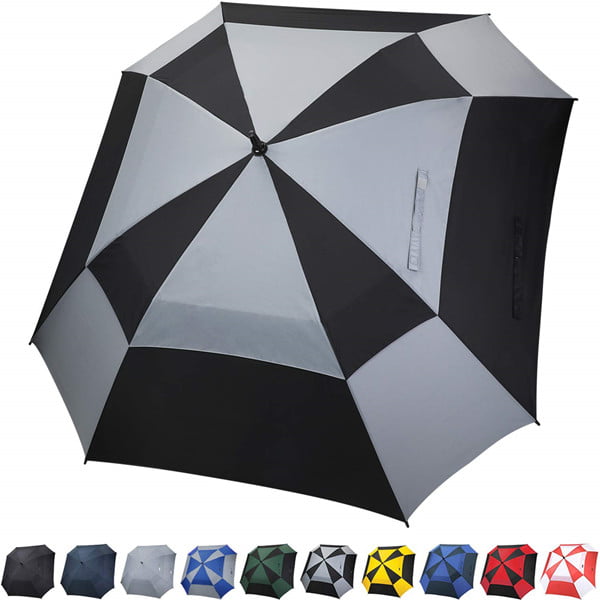 Why Choose Hfbrolly for Custom Golf Umbrella?
Shenzhen's Hfbrolly is a top supplier of customized umbrellas. Our plant is equipped with cutting-edge machinery and staffed by trained workers who use it to produce a wide range of premium umbrellas.
Our top priority is providing work of the highest quality to boost your company's reputation. We use cutting-edge machinery and premium supplies to realize your conceptual designs.
We guarantee on-time delivery, regardless of whether you need a large or small quantity. You can rely on us to get the job done on time since we value yours just as much.
Hfbrolly's dedication to excellence is just one of the many reasons to work with us. No of the quantity ordered or the specifics of the job, we never sacrifice quality for speed.
To achieve this goal, we implement comprehensive quality control measures across the board to guarantee that all products adhere to the standards set by the overarching industry.
Hfbrolly's flexibility in meeting individual needs is another selling point. You can trust us to realize your creative vision for your company's branding, whether it be a logo, slogan, or design. You can trust that our team of expert designers will work closely with you to get the design just right.
Also, Hfbrolly's prices are low without sacrificing quality. Keeping costs down is a priority, but we won't skimp on quality or design because we know that's vital to many businesses.
Hfbrolly also boasts a speedy production time, so your personalized golf umbrellas will arrive promptly. Fast and reliable delivery of high-quality goods is made possible by their streamlined production method.
Last but not least, Hfobolly has fantastic support for its customers. We care deeply that each and every one of their customers has an excellent experience with them. Please don't hesitate to contact us if you have any questions or issues as we move forward.
Conclusion
Custom golf umbrellas offer numerous benefits for both individuals and businesses. From protection against the elements to effective branding opportunities, these umbrellas are a versatile and valuable investment.
If you want to learn more about custom golf umbrellas feel free to send us a message. One of our experts will contact you very soon.