Branded patio umbrellas are a worthwhile investment for any business owner, whether they run a restaurant or simply want to increase their brand's exposure.
They serve a dual purpose of protecting customers from the elements and immersing them in the brand.
Let's explore the world of outdoor advertising and see how these fashionable umbrellas may take your company to new heights.
The Power of Outdoor Branding
Branding in public spaces is a highly effective kind of advertising. It's a cost-effective way for businesses to reach a big audience. Outdoor advertising can raise product or service awareness, increase customer foot traffic, and strengthen brand loyalty.
Outdoor advertising has many advantages.
Outdoor advertising gets your company's name and products out there, where more potential buyers are more likely to see them.
This advertising can boost your company's sales and bottom line. Research has shown that stores with prominent outside signage generate more business than those without.
Outdoor advertising helps get your company's name out there and recognized by potential customers.
Outdoor advertising increases brand recognition and recalls by exposing consumers to your company's name frequently.
These are just a few advantages. The bottom line is you can not run a business without a strong outdoor presence.
Benefits of Having a Branded Patio Umbrella
Businesses that want to make a strong first impression enjoy many benefits from using branded patio umbrellas.
Having your company's name or brand printed on a massive, attention-grabbing umbrella is a great way to stand out and make an impression.
Branded patio umbrellas are useful for more than just advertising your business. Customers may relax and enjoy the outdoors without worrying about becoming sunburned, thanks to the protection they provide from the sun's ultraviolet radiation.
In addition, customized patio umbrellas allow companies to spread their marketing efforts beyond the confines of the storefront.
These branded umbrellas are a great way to extend your company identity into new settings, like outdoor cafes, restaurant patios, and hotel gardens.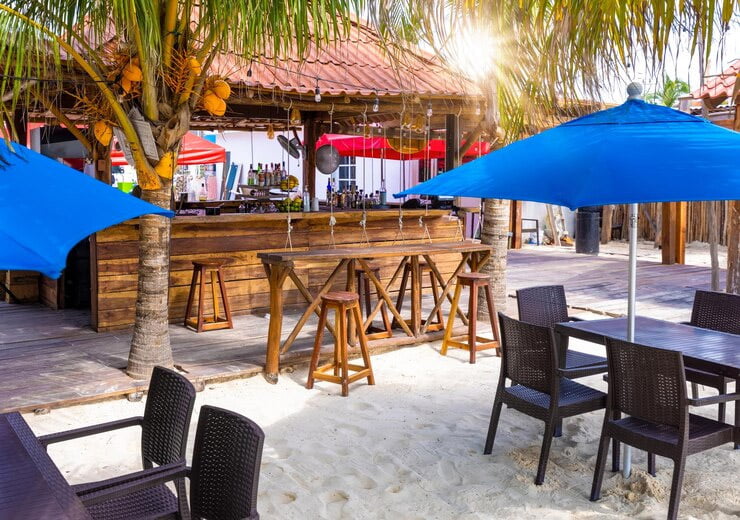 Types of Branded Patio Umbrellas
The most common one is the market umbrella. This umbrella's timeless style makes it a great addition to any patio or garden.
An expansive canopy is a signature feature, blocking off the sun and keeping you cool. The market umbrella can be printed with your company's logo and name, turning it into a highly effective form of outdoor advertising.
Cantilever umbrellas are another option. This modern and flexible option has an offset pole rather than a central one, making it simple to set up and fine-tune. The creative structure not only improves the aesthetics but also makes the most of the floor area beneath it.
Investing in massive commercial umbrellas is a bold move if you want to make a statement with your logo. These enormous umbrellas not only offer complete protection from the elements but also make an impressive visual statement.
Keep in mind that excellent materials and craftsmanship are vital for durability and lifespan with any branded patio umbrella you purchase.
Customization Options: Logo Placement, Colors, and Artwork
Having the flexibility to customize your patio umbrellas is crucial when designing a product that will serve as a visible advertisement for your company.
There are a few different options for where to put the logo.
Having your logo prominently displayed on the canopy is a great way to get your name out there. Displaying your brand on the valance is another option; doing so will lend your space an air of refined beauty.
Color choice is as important as logo placement when it comes to building brand awareness.
You can have your umbrella made in company-specific colors, or you can have it made in bright, attention-grabbing colors that will make it stand out in the sun. Think about employing eye-catching colors to convey the vitality and character of your brand.
One other avenue of individualization is art. A visually attractive umbrella can be made by including distinctive designs or patterns. Customization options for artwork are virtually limitless, ranging from straightforward geometric forms to elaborate designs.
Keep in mind that the sum of your personalization efforts should improve the customer's perception of your business and create a long-lasting impact.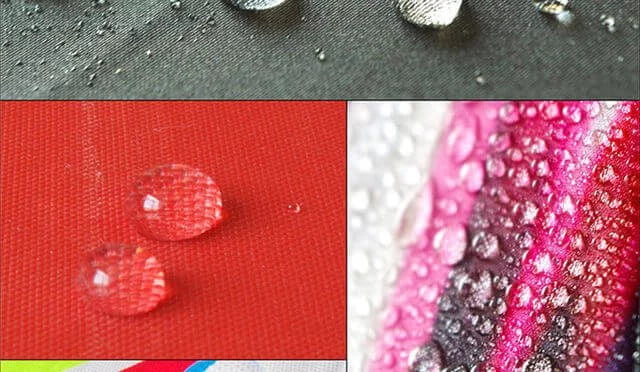 How to Select Proper Materials for Your Branded Patio Umbrellas
Longevity is the top priority. It's crucial to pick materials that can survive the wind, rain, and sun exposure that your umbrellas will be subjected to.
Polyester cloth is often used for umbrella canopies. Polyester is excellent for usage in the outdoors since it is resistant to fading and UV damage. In addition, it dries rapidly after becoming wet, so it won't harbor mold or mildew.
Aluminum is another viable option for the umbrella's frame. Since aluminum is both lightweight and strong, it's simple to set up and carry, and it stays put even in high winds. The aluminum frame gets an extra defense against rust and corrosion thanks to a powder coating.
Wood or fiberglass are common materials for umbrella poles. Wood is beautiful and traditional, but it needs regular upkeep, like sealing and painting, to prevent rotting and cracking. The strength and longevity of fiberglass poles are not compromised by their adaptability.
Consider whether you'd like your branded patio umbrellas to have features like built-in lights or an adjustable tilt mechanism in addition to these materials.
How to Select a Manufacturer to Buy Branded Patio Umbrellas
You want to partner with a manufacturer that can meet your needs in terms of branding, product quality, and timely delivery.
Think about the background and standing of the producer. Find a company that has been around for a while and has received rave ratings from previous clients. An established company will have a history of making high-quality products that sell well.
Next, think about how they can be personalized. Can you specify where you'd like your logo placed, and do they honor that? Is there a wide variety of colors and designs to pick from? It's crucial to locate a supplier whose umbrella designs can effectively communicate your brand's values.
The choice of materials they choose is also important. The durability of the umbrellas in the face of elements like sunlight, water, and wind depends on the materials employed. Make sure the producer uses UV-resistant and waterproof textiles in their production.
You should also prioritize manufacturers with helpful customer service. They need to answer your questions, give you thorough descriptions of their goods, and guide you through the ordering procedure.
Think about your price structure. It's human nature to look for the cheapest deal but keep in mind that you usually get what you pay for. Think about things like personalization choices, the quality of the materials used, and the reputation of the maker when comparing prices.
Lead time and MOQ are both crucial for any business. So, ask the company's MOQ and their dedication to meet the proper lead time you need for your umbrellas.
Features to Look for When Choosing a Branded Umbrella
Think about the size of the umbrella first. You need it to be big enough to block the sun but not so enormous that it gets in the way.
The construction materials should be considered next. Choose an umbrella made of a material that won't break down in the elements, like polyester or canvas.
The simplicity of use is also a noteworthy quality. Choose an umbrella that will last and has a simple opening mechanism that will be appreciated by both consumers and staff.
Think about whether or not you'll need the umbrella to have special features like wind vents, which let air in and keep it from flying away in strong winds.
Your brand's colors and design principles should inform the umbrella's color and pattern. Pick hues that go along with your brand's vibe, and maybe even throw in a logo or some original artwork for good measure.
Keep portability in mind. The umbrella should be lightweight and portable, with a case or bag for storage if you intend to bring it with you to events or trade exhibitions.
Promotional Ideas for a Branded Patio Umbrella
Are you hoping that your branded patio umbrella will create a significant impression? Here are some innovative and successful marketing strategies to assist you in maximizing the impact of this potent advertising medium.
Take advantage of outdoor opportunities like fairs, festivals, and other gatherings in your area.
Think about sponsoring local sports teams or outdoor events where your ideal customers will be present.
Give away branded patio umbrellas on social media or hold contests to win them. If you want your umbrella to become viral online, have people post images of themselves wearing it and mention your company.
Offer a branded patio umbrella as a freebie during limited-time sales seasons or promotional events.
Collaborate with like-minded companies and opinion leaders. Co-branding opportunities include promotional patio umbrellas bearing the logos of both companies.
Gifting customized patio umbrellas to customers, staff, or partners is a great way to show your appreciation for their patronage of your company.
Examples of Successful Brands Using Branded Patio Umbrellas
Coca-Cola is a household name around the world, and the company's outdoor advertising campaign includes strategically placed branded patio umbrellas. Coca-Cola provides customers with shade and comfort by strategically placing high-quality umbrellas emblazoned with the company's trademark red and white emblem.
Branded patio umbrellas are used by many high-end hotel chains for advertising purposes. These upscale businesses aim to wow their clientele with their air of refinement and exclusivity by using only the finest materials and slickest designs.
This is a marketing approach that may be successfully implemented by firms of any size. Branded patio umbrellas with eye-catching designs or one-of-a-kind artwork help local restaurants, pubs, and cafés stand out. This makes them stand out from the crowd and sticks in the minds of potential customers longer than competing brands.
The most important thing to remember is that successful companies know how important it is to use branded patio umbrellas in their marketing campaigns.
If you're a large corporation or a small business owner seeking a fresh approach to outdoor advertising, try purchasing patio umbrellas with your company's logo imprinted on them.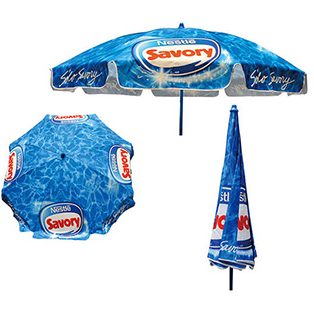 Why Choose Hfbrolly for Your Branded Patio Umbrellas?
Here are some reasons why we are an established name in the industry:
We take great pleasure in the quality of our products. Each umbrella is carefully crafted by hand by trained artisans using only the highest quality materials.
Hfbrolly's extensive customization options let you create an umbrella that's a perfect fit for your company's image.
We collaborate with you every step of the way to realize your vision, from logo placement to color schemes and artwork.
Hfbrolly's branded patio umbrellas are built to last. So that your investment maintains its good looks throughout the years and in all kinds of weather, they will only use the highest quality materials.
We are among the few companies who deliver the best quality branded patio umbrellas at an affordable price without compromising the quality.
We have a dedicated customer care service to look after our customers. Do you have any queries or want a free sample?
Send us a message, and one of our experts will join you soon.