Corporate umbrellas are a practical and stylish way to promote your business and build brand awareness. So the right corporate umbrella can make all the difference if you're looking to create a memorable corporate gift, impress your clients at a trade show, or keep your employees dry on rainy days. In this post, we'll cover everything you need to know to choose the perfect corporate umbrella for your needs.
Why Corporate Umbrellas Matter
Corporate umbrellas are more than just an accessory – they're a marketing tool that can help increase your brand's visibility and credibility. When you customize an umbrella with your company's logo or message, you create a walking billboard that can be seen by potential customers wherever it goes. Plus, umbrellas are practical items that people are more likely to use and appreciate, which can further enhance your brand's reputation.
Types of Corporate Umbrellas
When choosing a corporate umbrella, there are many types and styles to consider. Here are the most popular corporate umbrellas:
Golf umbrellas: Large and sturdy, these umbrellas are ideal for outdoor events and golf tournaments.
Folding umbrellas: Compact and lightweight, these umbrellas are easy to carry and store, making them a popular choice for travel and daily use.
Bubble umbrellas: These umbrellas have a dome-shaped canopy that provides extra coverage and protection from wind and rain.
Executive umbrellas: Made from high-quality materials and featuring sleek designs, these umbrellas are perfect for professionals who want to make a stylish impression.
Choosing the Right Size and Style
When selecting a corporate umbrella, it's essential to consider your brand image and target audience. For example, a brightly colored golf umbrella might be perfect for a sports brand, while a sleek black executive umbrella might be more appropriate for a law firm. Consider the size of the umbrella as well – do you need something large enough to cover two people or something compact and easy to carry? Finally, consider how the umbrella will be used and choose a style that best fits your needs.
Customizing Your Corporate Umbrella
Customizing your corporate umbrella with your company's logo or message is necessary for any marketing campaign. Ensure the logo or message is transparent, easy to read, and visually appealing when designing your umbrella. Choose colors that match your brand's color scheme and consider adding additional details such as a web address or tagline.
Quality and Durability
Investing in a high-quality, durable corporate umbrella ensures that it lasts a long time and performs well. Look for umbrellas made from materials such as fiberglass or carbon fiber, which are lightweight yet strong, and opt for canopies made from durable materials such as nylon or polyester. In addition, pay attention to the quality of the handle and frame and the mechanics of the opening and closing mechanism.
Budgeting for Corporate Umbrellas
Setting a budget for your corporate umbrella campaign is essential for controlling costs. Consider factors such as the number of umbrellas you need, your desired customization options, and the required quality level. In addition, look for umbrella suppliers that offer bulk discounts or other cost-saving opportunities, and be sure to factor in shipping and handling costs.
Ordering and Delivery
When ordering your corporate umbrellas, choose a reputable supplier with a proven track record of quality and reliability. Once you've placed your order, be sure to keep track of delivery dates and confirm that the umbrellas have arrived as expected. If you're distributing the umbrellas to employees or customers, consider including a personalized note or other branding materials to make the gift even more special.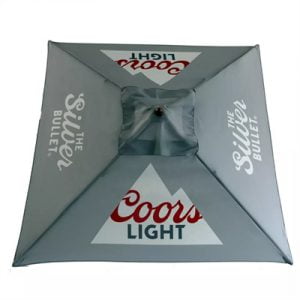 Conclusion
Choosing the perfect corporate umbrella requires careful consideration of many factors, from size and style to quality and customization options. Choose the right umbrella and customize it to fit your brand's image; you can create a unique and effective marketing tool that will be appreciated by employees, clients, and potential customers alike.
Remember to consider the size and style of the umbrella and customize it with your logo or message in a visually appealing way. Quality and durability are important factors to ensure your investment in the umbrellas pays off in the long run, so choose a reputable supplier that offers quality materials and crafts. And remember to set a budget and keep track of delivery dates to ensure a smooth and successful campaign.
With these tips in mind, you're well on your way to choosing the perfect corporate umbrella for your business needs. So the next time it rains, your brand can shine brightly with a customized, high-quality umbrella that represents your company in the best possible light. Contact: info@hfbrolly.com