Description
Digital Print Customise Umbrella Three Fold Umbrella NO MOQ
A beautiful umbrella can cheer your mood on rainy days, can be a fantastic accessory to match your fashion sense. As well, a beautiful umbrella can also make your brand more attractive, even as a branded umbrella. Now, HF Brolly bring your ideas, your designs to reality! Design an Umbrella! Digital Print Customise Umbrella!
NO MOQ, door to door service, easy steps, you can create your own design umbrellas or branded umbrellas, or make a unique and memorable gift to your friends or customers! With HF Brolly, a leading umbrella manufacturer, you can do it in an easy way!
Digital Print Customise Umbrella and Dye Sublimation
Digital Printed Umbrellas and Dye Sublimation is an advance method of printing umbrellas. It allows for umbrella panel printing using vibrant colours and patterns. Generally, perfectly match your demand. As technology moves on, digital printing offers more accessible that previously umbrella manufacturer would not have been able to proceed. Additionally, it is available on shorter production lead time.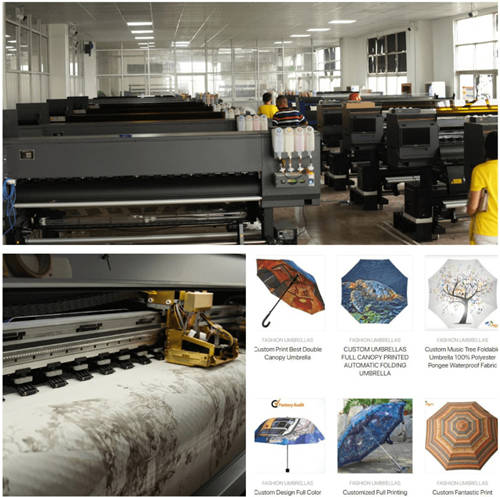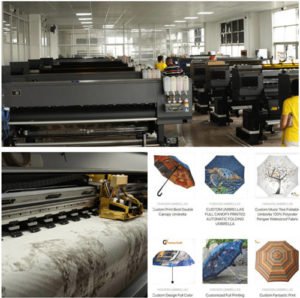 The revolutionary digital print technology allows you to create breathtaking umbrellas that were just not possible before. Such as, design umbrellas, branded umbrellas, or even promotional umbrellas! As a result, HF Brolly creates ever more visually stunning umbrellas for our clients.
What you can have here at HF Brolly umbrella factory?
Pantone matched umbrella fabric, logo colours from production runs in NO MOQ.
No limits to the number of colours on printing. In other words, NO EXTRA COST!
Dramatic full umbrella panel designs are available, using shading and graduation.
No deterioration after prolonged use, colours stay vibrant.
Digital process for photographic and tonal images. Full photographic prints can be DONE.
Come here and make your umbrellas with design!