Description
Full Color Print Umbrella Customized Inverted Umbrella Available
The inverted umbrella is one of the most popular items as promotional products. It's inverted open and close function is very convenient to prevent raindrops make you wet while closing, especially for those who drive. Compare to the traditional umbrellas, an inverted umbrella, or called revered umbrella, can be closed in a reverse way that won't get stuck by the doors. Furthermore, there're two canopies, which are perfect for your logo or brand print on the umbrella. However, do you know how you can customise your own branded umbrella? Here is an answer for you, a Full Color Print Umbrella.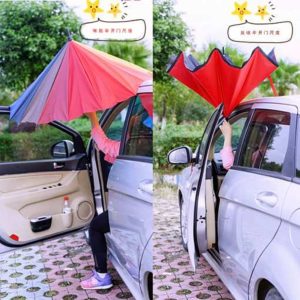 Why our inverted umbrellas are different from others?
First of all, compared to others, at HF Brolly, we only offer you good quality materials. While other inverted umbrellas are difficult to open, or easily broken, by using good quality our inverted umbrella is durable and easy open. This is because there are double canopies on an inverted umbrella. If the material is not good enough, it can't hold the fabric weight and easily damaged.
Secondly, HF brolly offers you a NO MOQ service. Furthermore, it's not just a simple stock umbrella. It's a customise logo brand umbrella of your own. As an umbrella manufacturer, HF brolly reserve the best materials here. With digital print technology, you can have more than a simple silk screen logo and certain color fabric.
Thanks to the double canopies, there are more options to show your unique company or brand to people. You can have different fabric colors, logos on outer fabric and full color print inside, or logos or pictures are available.
As per its unique design, HF brolly can also offer you unique laser-cut holes on the inside canopy. You can have logos or words on that part.
Do you want to give your customers or show your brand in front of people in a different way?
Contact us for more information!