For success in the competitive marketplace of today, companies must consistently innovate in order to attract and retain customers. There is a need for a new type of promotional item, and branded beach umbrellas fill that void brilliantly.
If you are not aware of the marketing potential of branded beach umbrellas, you have landed in the right place. Here we will discuss the marketing potential and benefits of branded beach umbrellas.
Marketing Potential of Branded Beach Umbrellas
Increasing Brand Visibility
The use of branded beach umbrellas is a fascinating new technique to attract attention to a company's name. Having an umbrella at the beach with your company's logo or design printed on it is a great way to get people talking and leave a lasting impression.
These branded umbrellas grab attention thanks to their vivid colors and eye-catching designs, which pop against the neutral tones of the sand and the blue sky. As people relax in the shade that these stylish items provide, they end up promoting the brand without even knowing it.
There is a great chance for businesses to build brand awareness and customer loyalty through direct interactions with interested customers that are sparked by this engagement.
Additionally, as social media continues to dominate our daily lives, branded beach umbrella photographs shared online reach a wider audience than just those there at the beach itself.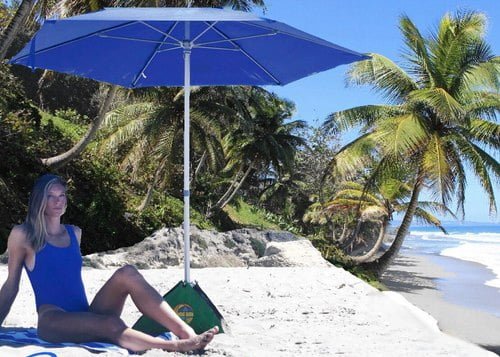 Partnering with Resorts and Hotels
Collaborations with hotels help spread the word about your business. These stores are in prime locations to showcase your branded beach umbrellas to potential customers. When you join forces, you can increase your reach by tapping into each other's customer bases.
Branded beach umbrellas are an affordable and easy way for hotels and resorts to make a good impression on their customers. Your brand will be associated favorably in their minds as a place of relaxation and rejuvenation if fashionable and functional umbrellas are made available to guests.
Providing hotel customers with exclusive discounts or promotions is one way to improve your ties with the hospitality industry.
Enhancing Brand Perception
Building a reputable brand relies heavily on how people perceive it. Before and after a purchase, customers' actions are heavily influenced by their perceptions of your brand. Market your business and get your name out there by advertising on beach umbrellas.
Promoting your company with customized beach umbrellas is a great way to get people talking.
Promoting your company on the beach is a breeze when you have your logo or message printed on one of these umbrellas. Your desired consumers might form more favorable impressions of your brand and become more engaged with it as a result.
More so, when you distribute branded beach umbrellas, consumers will automatically associate your brand with pleasant memories of time spent under the sun. Offering beachgoers some welcome shade and relief from the sun is a great way to promote your business quietly.
When customers see your company's logo displayed prominently on beach umbrellas in popular tourist destinations or at beachside hotels and resorts, they'll automatically associate you with a positive brand impression.
That way, your customers will have more faith in your products and be more likely to tell their friends about them.
In today's competitive marketplace, success depends on building a positive reputation for your company among consumers.
Branded beach umbrellas are a new way for businesses of any size to spread the word about their company and leave an impression on potential customers that will remain. The advertising industry would be wise to take advantage of this trend.
Make beach umbrellas that perfectly illustrate your brand's USP by letting your imagination go wild.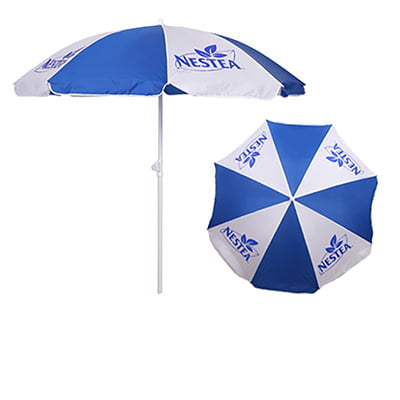 Benefits of Branded Beach Umbrellas
Businesses that want to leave a lasting impression on sunbathers can do so with the help of branded beach umbrellas.
To begin with, these umbrellas serve as mobile billboards, drawing the eyeballs of many potential clients as you travel the streets. Branded beach umbrellas are effective advertising tools because of the high visibility of their branding in highly trafficked tourist areas.
They provide a lot of space for advertising, so not only can the corporate logo but also other imaginative images and slogans that speak to the company's beliefs and products can be shown.
These umbrellas can be strategically placed near high-traffic areas along the shore to attract the target demographic and improve the customer experience by providing welcome shade.
Moreover, if you put money into long-lasting products, you may use them year after year, increasing your exposure to residents and visitors alike during each warm season.
An inexpensive marketing strategy with limitless potential, branded beach umbrellas are more than just practical accessories; they become symbols of leisure and relaxation in the sun, subtly reinforcing brand identity within the mindscape of consumers.
Target Market and Audience for Branded Beach Umbrellas
Promotional beach umbrellas can reach a large audience, but only if you know your audience. Vacationers and visitors are a major target audience for branded beach umbrellas.
Vacationers are an ideal audience for your brand message because they are actively seeking solutions to their needs while relaxing on the beach. You may get people's attention while they're lounging in the sun by putting your logo or design on a beach umbrella.
Families with young children are another potential market for branded beach umbrellas. When taking their children to the beach, parents naturally worry about their safety. Providing branded umbrellas that shield kids from the sun's rays has the dual benefit of keeping kids safe and building goodwill among parents.
Companies in coastal locations may reach more than just tourists and local families by handing out branded beach umbrellas. These promotional goods are a great method for beachside businesses like restaurants, hotels, and resorts to get their names out there to locals and visitors alike.
The success of your branding efforts depends on your ability to define your target market and audience effectively.
Knowing your target audience is essential for a successful branded beach umbrella campaign, whether you're attempting to entice holidaymakers looking to unwind or families worried about keeping their children safe from the sun.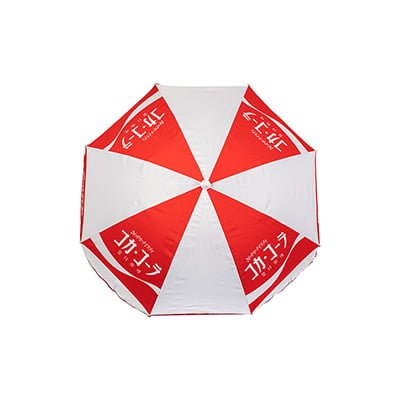 How to Create an Effective Branding Strategy with Branded Beach Umbrellas
Having a well-defined strategy in place is crucial for realizing the full promotional potential of these canopies.
The first step is to think about who you're trying to reach. Who do you think would be most likely to see your branded umbrella at the beach or poolside? You can tailor a message that truly connects with them if you have a firm grasp of their demographics, hobbies, and preferences.
Next, think about how you may personalize your beach umbrella. Pick colors, prints, and images that complement your brand and help get your point over. Keep it visually appealing, and make sure your brand or phrase is clearly visible on the umbrella.
Additionally, consider forming an alliance with hotels or resorts that are situated close to busy beaches.
By working with these businesses, your brand will be seen by more people while customers rest under your umbrellas. You can introduce your brand to people who don't know about it through this strategic alliance.
Encourage customers to post pictures of themselves using or reclining beneath your branded umbrella on social media. As a result, user-generated material is produced, which may be used to spread the brand in an organic manner through various internet mediums.
Designing and Customizing Beach Umbrellas
Companies may get their names out there in a lighthearted and original way by having beach umbrellas printed with their logo.
If they are creatively constructed to attract attention and leave a lasting impact on beachgoers, these umbrellas might become powerful marketing tools.
Designing the appearance of branded beach umbrellas requires some out-of-the-box thinking. As well as being aesthetically beautiful, the design should reflect the brand's ideals. The company emblem and recognizable colors should both be prominently displayed on a promotional umbrella if you want customers to remember your firm.
Customization options add another way that branded beach umbrellas may stand out. Whether it's the size and form of the umbrella, the fabric patterns, or the additional features like wind vents and tilt mechanisms, customization enables businesses to develop a product that is unique and represents their character.
The construction of a branded beach umbrella should prioritize durability. These parasols will be utilized in severe weather and will be subjected to frequent wind and rain. High-quality materials that can withstand exposure to the elements should be used to ensure longevity.
When companies put effort into the design and customization of beach umbrellas, they may create promotional products that serve a dual role on popular beaches.
The branded umbrellas are both aesthetically pleasing and practically useful for beachgoers.
How to Choose the Right Branded Beach Umbrella for Your Business
It can be difficult for beginners to choose the best branded beach umbrellas. Here are some expert opinions from our team:
The umbrella's design should, first and foremost, reflect your brand's values and ethos. Your brand's identity should be reflected in the umbrella's design, whether you go for a bright and cheery pattern or a more understated and elegant style.
It's important to consider both form and function. Think about issues including portability, weight, and assembly time. How well does the umbrella hold up in the wind?
Is it convenient to carry around? You can rest assured that your customized beach umbrella will be both aesthetically pleasing and functional by keeping the aforementioned details in mind.
The durability of an item is also crucial. Investing in high-quality materials will guarantee that your branded beach umbrellas will last through many seasons of use without losing their color or being damaged.
Umbrellas should have UV-resistant fabric and strong frames to withstand the sun and years of use.
You should not overlook the customization options while looking for a manufacturer. Many manufacturers may also print a company logo or catchphrase on the umbrella's fabric or provide color customization.
Using these alternatives, you can make a branded beach umbrella that is truly one-of-a-kind and stands out from the crowd.
Why Choose Hfbrolly for your Branded Beach Umbrellas
More than 30 years ago, we began producing umbrellas. We have grown over the years to become a major manufacturer in the world. You can get a free sample design for your branded beach umbrellas from our skilled designers.
Hfbrolly's branded beach umbrellas are very adaptable, allowing you to design them to match your brand's colors, patterns, and more. Since we are experts at personalization and pay close attention to every detail, you can trust us to realize your vision.
The consistent commitment to quality that Hfbrolly has shown why we are the best choice among suppliers. Our beach umbrellas are made from premium materials to ensure that your brand remains visible during even the harshest weather conditions.
Our team of experts will be available to you at every stage of the process, from initial concept development to final delivery, to guarantee your satisfaction.
Hfbrolly recognizes the significance of on-time deliveries, too. We are able to complete orders quickly without compromising on quality or paying less attention to the details. Businesses rely on timely product deliveries, and we never miss a given date.
Hfbrolly's dedication to offering superior products, helpful service, and speedy delivery has won the company a solid name around the world.
If you need any suggestions or looking for a free design, just send us a message. One of our branded beach umbrella experts will contact you soon.