Are you trying to find an innovative and productive approach to boosting your company's profile? You need to be creative if you've exhausted all conventional methods without success.
Have you thought of using Branded Golf Umbrellas to raise brand awareness? If the answer is no, you are passing up a great opportunity to connect with your ideal clientele.
Personalized golf umbrellas are what you're looking for. These fashionable protections from the rain can also serve as effective promotional tools that make a long-lasting impression on customers.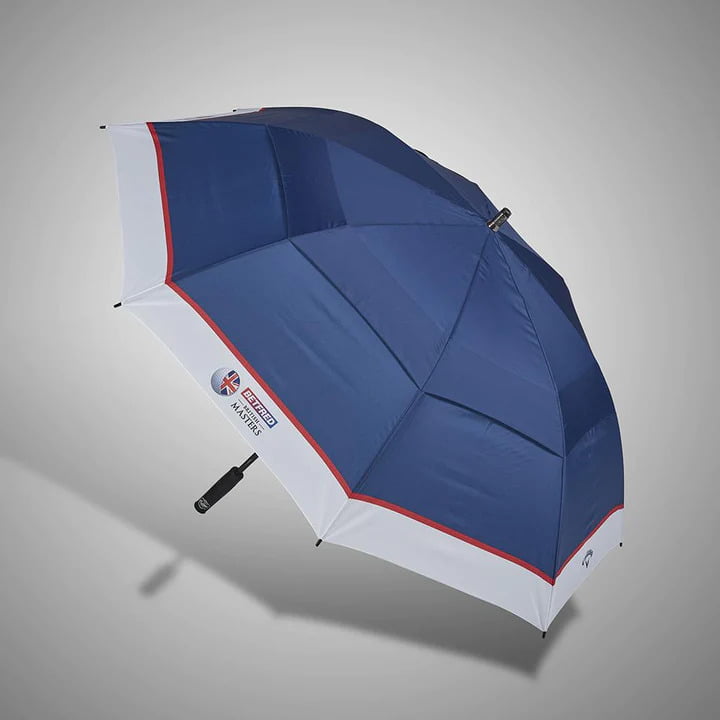 Benefits of Using Branded Golf Umbrellas
So, How branded umbrellas can drive corporate visibility?
Branded Golf Umbrellas are More Than Just Shelter
Branded golf umbrellas serve as much more than just a raincoat. Your brand's logo and message will be prominently displayed on the enormous, highly visible surface area of these umbrellas.
People will remember your brand in an instant if they see your branded umbrella being used. Your umbrella can serve as a mobile billboard for your business anywhere you go, from the golf course and outdoor events to the sidewalk.
Corporate Golf Umbrellas are Mobile Marketing Tools
Branded golf umbrellas have a lot of room for a company's emblem and marketing message. When staff or customers take these umbrellas with them, they act as mobile billboards for the company's brand.
These umbrellas' portability allows for greater marketing exposure than stationary billboards. Your logo will be displayed proudly for all to see at any golf tournament, outdoor event, or even in everyday life.
Customers are more likely to remember and associate your brand with these consistent reminders.
When utilized in a professional atmosphere, corporate golf umbrellas also lend an air of legitimacy and professionalism to any endeavor. Investing in high-quality branding is evident when umbrellas with the company logo are distributed to employees or used at corporate events like conferences and trade exhibitions.
Branded Gold Umbrellas Create a Memorable Impression
Customized golf umbrellas can make a long-lasting impression on consumers and customers.
Consider going to a company function or golf tournament where all the attendees have the same branded umbrella. It'll help your business look more cohesive and professional right away, setting you apart from the competition. After the event is over, people will still remember your brand.
Because of its adaptability, branded golf umbrellas can be used in a variety of unique advertising contexts. To raise awareness for both your own and the other companies involved, you might have the attendees of your charity event wear customized umbrellas bearing the logos of the event's sponsors.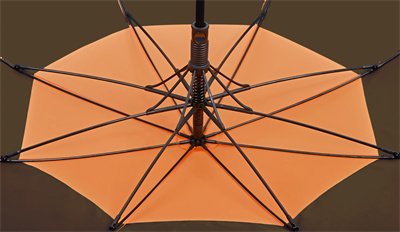 Durability and Strength
Branded golf umbrellas are reliable allies in the face of erratic weather conditions on the course. The strength and resilience of these unique accessories much outweigh that of regular umbrellas.
Corporate branded golf umbrellas are constructed with the utmost care and can withstand even the most severe storms.
These umbrellas are built to withstand strong winds and heavy downpours thanks to their high-quality components, including fiberglass frames and nylon canopies.
The sturdy build guarantees they won't fall apart during your round of golf, so you'll be protected from the sun and any sudden showers.
Lightweight and Easy to Transport
Golf umbrellas with company logos are a great promotional item since they combine form and function for business use.
Because of their small size, they may be moved from one location to another with little effort.
Cost-Effective Promotional Tool
Advertising using branded golf umbrellas is a great way to get your name out there without breaking the bank. These fashionable and practical items not only protect golfers from the elements but also act as effective billboards.
These umbrellas effortlessly draw attention and produce exposure in situations other than golf courses because they feature a company's logo, slogan, or artwork prominently.
Businesses may reach a large audience with their marketing message and avoid spending a fortune doing so because of the huge room for personalization. Moreover, branded golf umbrellas provide lasting exposure because recipients will use them again owing to their great quality and durability.
This means that the brand will be seen more often whenever the umbrella is used, be it in the pouring rain on busy city streets or the bright sunshine at an outdoor event.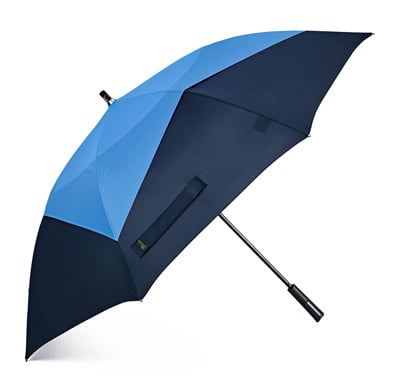 Creative Ideas for Using Customized Branded Golf Umbrellas
Strategies for Implementing Branded Golf Parasols
Outdoor Events: Branded golf umbrellas can give much-needed shade and protection from the weather while exhibiting your company's logo at outdoor events such as golf tournaments, charity walks, and trade shows.
Gifts for Employees: Give personalized golf umbrellas to your diligent staff as a token of your thanks. They'll value the gift's usefulness, and they'll be spreading the word about you whenever they use it on their own time.
Corporate Gifts: Thirdly, at the next corporate retreat, give each attendee a customized golf umbrella to make a bold statement. It's a nice touch of class that will keep guests dry and comfortable in case it rains during the event.
Sponsorship Opportunities: Fourth, take advantage of sponsorship possibilities by handing out branded golf umbrellas at local sporting events and community festivals. This will raise your profile and show that you care about helping out in the community.
Trade Shows: At trade exhibitions and conferences, custom branded golf umbrellas are a great way to attract people's attention and set your booth apart from the competition. Visitors will be drawn in by the large, colorful canopy and intrigued by what you have to offer.
These are some of the ways to boost your corporate visibility by using branded golf umbrellas. Think out of the box, and you will find more ways to improve your brand visibility by using this excellent marketing tool.
How to Choose the Right Style and Color for Maximum Impact?
How well your branded golf umbrellas are received by the public depends in no little part on the design and color scheme you choose for them.
Think about if you like a more conventional or contemporary aesthetic when making your choice. Consider how the image you wish to project fits in with the identity of your brand.
It's crucial to pick colors that stand out while also being consistent with your brand's aesthetic. Wearing bright and vibrant colors on the golf course or anywhere else may make a statement and draw attention.
Suppose you'd want to take a more subdued approach, though neutral colors and discreet embellishments will help your brand stand out.
The locations of regular use should also be taken into account. Colors that correspond with the company logo are a good choice if they will be utilized mostly at corporate functions or trade exhibits.
Using branded golf umbrellas as promotional goods can be quite effective, but only if the design and color scheme are just perfect. To make sure your umbrellas promote your business efficiently and stand out from the crowd, give these considerations some serious thought.
Examples of Successful Corporate Branding Using Golf Umbrellas from Top Brands
Branded golf umbrellas have been used by top companies to promote brand awareness. Let's examine how these top brands have successfully branded golf umbrellas.
Nike golf umbrellas have their swoosh logo. This modest branding instantly associates Nike with golf and boosts its visibility.
Coca-Cola is another innovative marketer. They use red and white golf umbrellas with their emblem. These umbrellas shade and draw attention as strolling advertisements.
BMW's golf umbrellas are sleek and refined. BMW umbrellas have elegant designs. These bold accessories protect from rain and sun.
Patagonia's golf umbrellas use sustainable materials. Patagonia promotes its brand and environmental responsibility via its emblem.
These golf umbrella branding examples are from leading brands in many industries. Small companies can also take advantage of branded golf umbrellas.
How to Choose a Manufacturer for Top Quality Branded Golf Umbrellas?
There are a few things to keep in mind while deciding on a supplier for your branded golf umbrellas of the highest possible quality.
Find a manufacturer with a solid reputation in the market first and foremost. You should collaborate with a firm that is well-versed in manufacturing premium umbrellas.
Next, think about whether or not the maker offers any customizations. Can they make umbrellas bearing your company's logo? The greater the variety, the higher the probability that you'll find an umbrella that works for your company's particular brand.
The quality of the materials the producer use is another critical aspect. Your branded golf umbrellas should last for years of use on the course if you purchase them from a company that uses high-quality, weather-resistant materials.
Think about their capacity for manufacturing and how long it takes them to complete orders as well. Will they be punctual enough for your needs? Do they have the capacity to handle bulk orders?
Putting customers first is essential. Pick a maker who will be available at all times to address your problems and respond to your questions.
The design department is also very crucial, especially for branded golf umbrellas. For example, at HFbrolly, we have a dedicated design to help our customers. Moreover, we offer a free design.
Last, but not least, Ask about the MOQs. You do not want to invest a large amount at the beginning.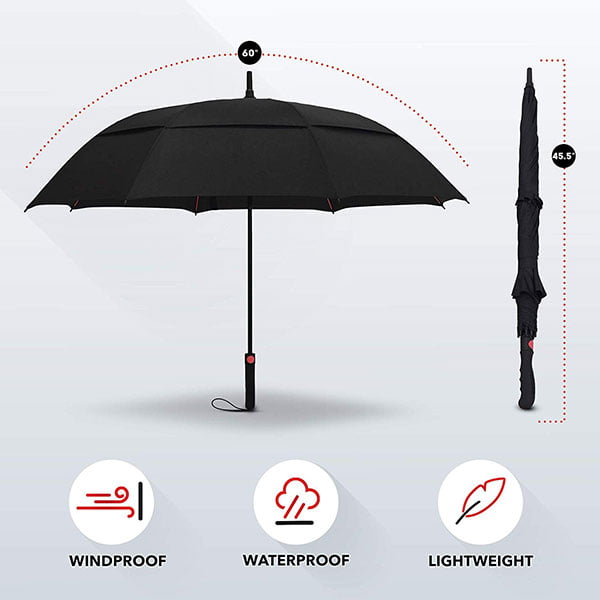 Why Hfbrolly is Your Trusted Partner for Branded Golf Umbrellas?
Seeking reputable name-brand golf umbrellas? Put an end to your search.
Hfbrolly is a reliable, high-quality option. We've made a name for ourselves as a go-to umbrella factory in China. We are more than a brand; our name is synonymous with superior goods around the world.
Our Shenzhen factory is managed by talented artisans who care about making a good impression on your company. No of the size of your order, we will employ cutting-edge tools, high-quality materials, and expertly crafted frames to bring your drawings to life on schedule.
Hfbrolly appreciates the value of making a strong first impression with your company's logo and other identifying symbols. In order to make your logo or message stand out, we provide a variety of customization options for our golf umbrellas.
Hfbrolly has the know-how to realize your ideas via either screen printing or digital printing, depending on your preferences.
Our group thrives on a wide range of perspectives. We release nearly a thousand new styles year, ranging from golf umbrellas to whimsical umbrellas for kids.
Regarding personalization, we stand out from the competition and help your brand stand out. We're not just producers; we're collaborators.
Get your name out there by working with us to produce branded umbrellas in quantity. Hfbrolly stands for durable goods at reasonable prices. We have a reliable supply chain that allows us to fulfill our commitment to you, the customer. Hfbrolly is the best option because of its high quality, originality, and reasonable price.
Final Words
Branded golf umbrellas are a unique and long-lasting way of branding your business. At Hfbrolly, we provide top-quality branded umbrellas at an affordable price. Have any projects in mind, or are you looking for a free design? Feel free to contact us. One of our experts will contact you soon.