People go to the beach for various reasons. Some go to swim, relax, spend time with nature, or bond with the family. Whatever your reason is for visiting the beach, you need to prepare well to have a good time.
One of the essential items you need to enjoy your stay at the beach is a beach umbrella. With a beach umbrella, you can secure a spot on the beach, get protected from the scorching sun, and remain cool while relaxing at the beach. When you have the right beach umbrella, it will set the pace for the rest of your beach day.
A beach umbrella also makes a great promotional or corporate gift. Overall, beach umbrellas are quite essential. In this article, we have compiled a list of the 15 best beach umbrellas for 2021.
Best Beach Umbrellas for 2021
These 15 beach umbrellas have been selected from numerous umbrellas in the market today. They are the best of the best and have features that prove this fact. Check out our choices in the list below.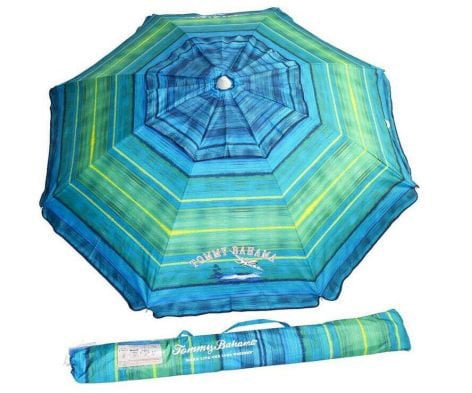 1. Tommy Bahama Sand Anchor Beach Umbrella
The Tommy Bahama Sand Anchor Beach Umbrella has a 7-foot wide canopy and a telescopic pole. With a push of the button, you can adjust the umbrella to your liking. Additionally, this umbrella makes it easy for you to tilt the canopy to whichever angle you want, thereby shading you from the sun even better.
This beach umbrella also has an Ultraviolet Protection Factor (UPF) 50+ sun protection. This means the fabric used to make the canopy blocks 98% of the sun's rays and lets only 2% (1/50th) through. This reduces the amount of exposure to UV radiation significantly.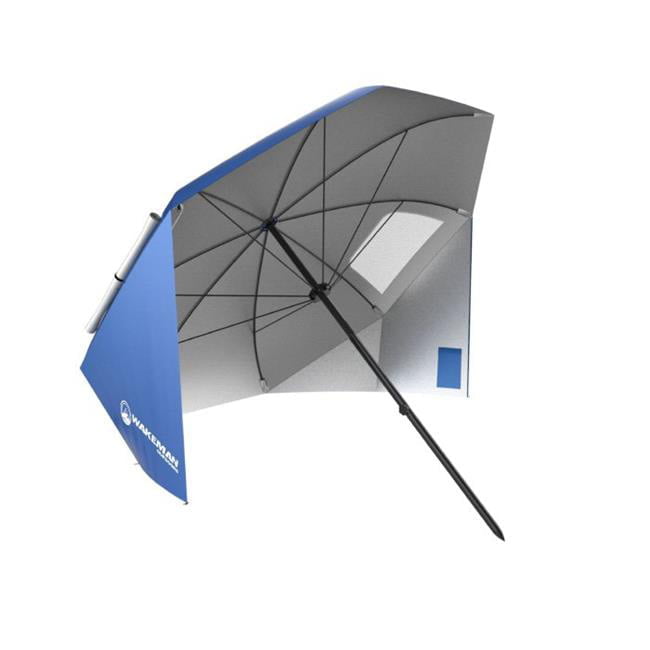 2. Wakeman Outdoors Sun Shade Umbrella
This umbrella ensures you stay safe and relaxed while at the beach. This beach umbrella comes with a UV protection rating of UPF 50+. It is lightweight and comes with a carrying case, making the umbrella easier to store and transport.
The Wakeman Outdoors Sun Shade Umbrella's canopy is made with water-repellent fabric. This fabric makes the umbrella ideal for a fun day at the beach. Additionally, it is very easy and quick to set up.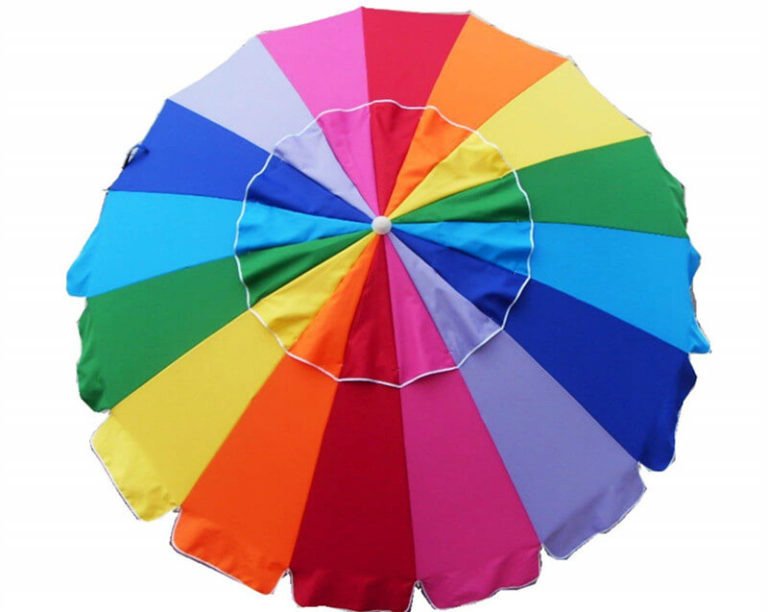 3. EasyGo High Wind Beach Umbrella
The EasyGo High Wind Beach Umbrella is an 8-foot umbrella that comes with fiberglass ribs. The manufacturers included a silver lining on the umbrella's canopy to provide additional UV protection.
The umbrella has a Push Button Tilt Mechanism that tracks the sun's direction and maximizes your shade. The umbrella's pole, made of rust-free anodized aluminum, has an extra-thick wall to increase its durability.
The umbrella comes with a high UPF 50+ UV protection, keeping you safe at the beach. Lastly, it has a fabric bag to make the carriage easier.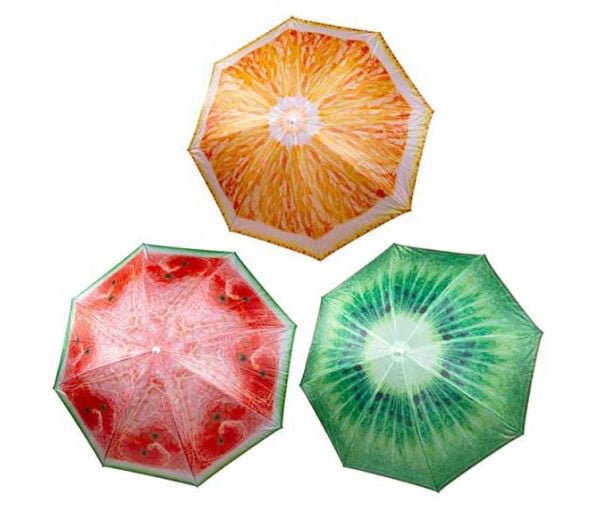 4. Huifeng Beach Umbrella with Fruit Design
The Huifeng Beach Umbrella has a fun, fruity design that you are sure to love. It also has practical features that make it the right choice for your trip to the beach. For instance, the umbrella's frame and shaft are made of steel, which will give you an umbrella sturdy enough to protect you from strong winds.
Its canopy is made of 100% polyester, and it is lightweight, weighing only 2kgs. In addition to all these wonderful features, you can get the umbrella at a low price. You do not have to spend a lot of money to get comfort and quality.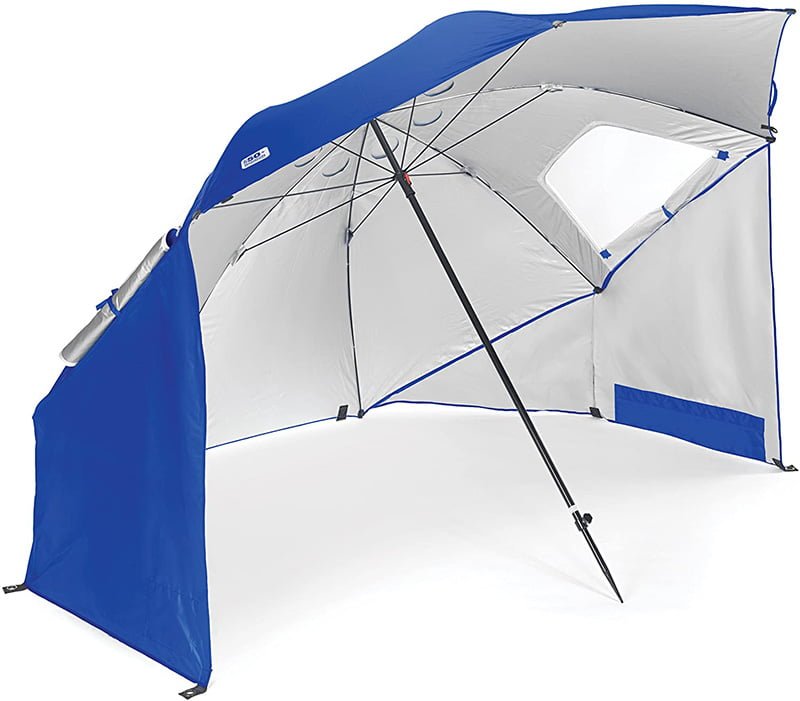 5. Sport-Brella Sun Canopy
The umbrella has zippered side windows and side flaps that let the breeze through and give full weather protection to its users. The umbrella comes with ground stakes and tie-down cords that prevent it from being blown away by strong winds.
The umbrella's canopy is supported by 4.5 mm steel ribs and a 5 mm steel stretcher to give the umbrella extra sturdiness. The umbrella comes in 8-foot and 9-foot varieties. Both varieties come with UPF 50+ sun protection.
With the included carrying case with a shoulder strap, you can carry the umbrella to and from the beach without stress.
6. Impact Canopy Beach Umbrella
The 8-foot beach umbrella has a sturdy sand anchor that keeps it secure in the ground, even during windy days at the beach. The windproof vented top, on the other hand, prevents the umbrella's canopy from turning inside out.
This umbrella provides adequate shade for its users with its UPF 50+ UV protection and large canopy. It also comes with an adjustable tilt that gives maximum protection from the sun.
This beach umbrella has 16 strong fiberglass ribs that help it last longer. Additionally, the Impact Canopy Beach Umbrella is lightweight and easy to assemble. With its carry bag, transportation becomes very easy.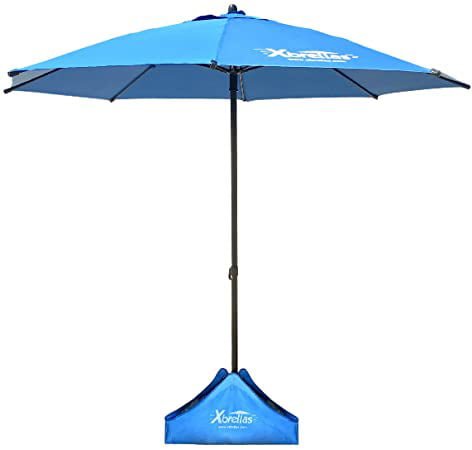 7. Xbrellas High Wind Resistant Beach Umbrella
Xbrellas High Wind Resistant Beach Umbrella is a heavy-duty beach umbrella specially designed for windy days at the beach. The Sand Fill System lets the umbrella withstand winds of up to 40 mph.
Although it is slightly smaller than other beach umbrellas, the umbrella's 7.5-foot canopy provides ample and consistent shade for those who use it. The umbrella also has an innovative anchor base design that allows users to pile sand into the base to stabilize it.
8. Frankford Commercial-Grade Beach Umbrella
Frankford's beach umbrellas come in a variety of fun, distinctive designs. The umbrella canopy is made from marine-grade, mold and mildew-resistant fabric. This Frankford Commercial-Grade Beach Umbrella has a solid Ashwood pole that won't bend, even in the strongest winds.
Additionally, it is lightweight, weighing between 13 to 15 pounds. And to make it even easier to carry, the umbrella has a carrying bag with a shoulder strap.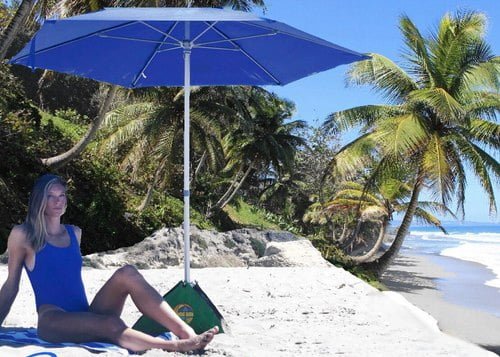 9. BeachBUB All-In-One Beach Umbrella System
This BeachBUB Umbrella has a name that speaks volumes. You are sure to get protection from the hottest sun with its UPF 50+ sun protection. It is also strong enough to face winds of up to 35 mph without folding up.
The umbrella has a functional pouch at the bottom that is to be filled with sand to give it additional support. And with its 7.5-foot encompassing canopy, none of your family members is going to be left out of the shade.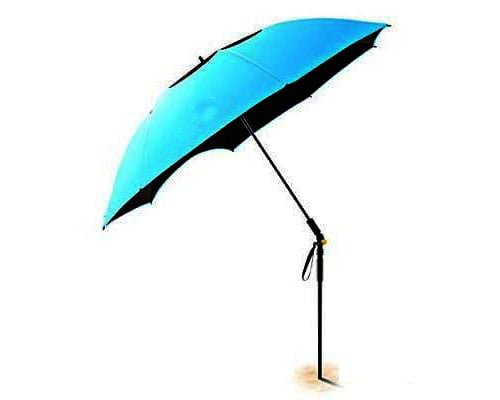 10. Sunphio Portable Heavy Duty Beach Umbrella
Sunphio Beach Umbrella is made of quality materials that would protect its users from the sun while outdoors. This umbrella is a lightweight umbrella that is very easy to assemble. This beach umbrella features a 4-layer canopy design. Its canopy design gives excellent UV protection, in addition to its UPF 50+ protection.
Also, it has a sturdy telescoping metal pole. This pole comes with a 360° tilt mechanism that keeps you shielded from the sun at all angles. Its two metal sand anchors give the umbrella extra stability. With this umbrella, you will surely get value for your money.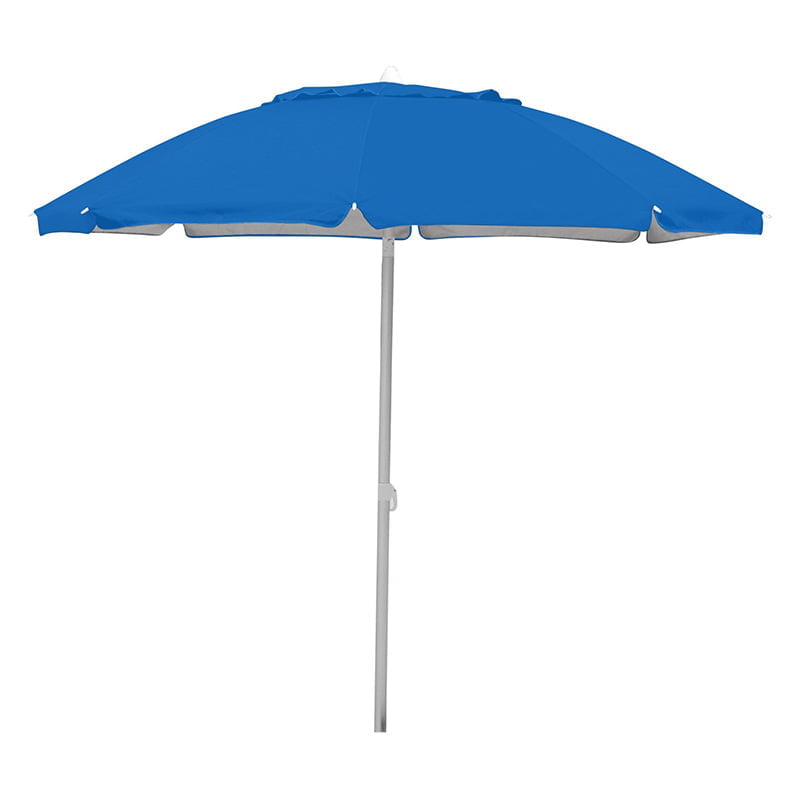 11. Caribbean Joe Tilting Beach Umbrella
The canopy of the Caribbean Joe Beach Umbrella has the tilting feature, which gives you maximum protection from the sun. The polyester fabric used in the umbrella's canopy manufacturing helps to provide superior UV protection for you and your loved ones. This makes the umbrella ideal for the beach or any outdoor activity.
The vented umbrella canopy allows air pressure to escape through the vents found in the canopy. This helps your umbrella to resist any strong wind you might experience at the beach.
This umbrella is sturdy but lightweight. It weighs about 3.5 pounds, making it very easy to carry wherever you go. Also, its 8-ribbed steel frame protects from both sun and rain.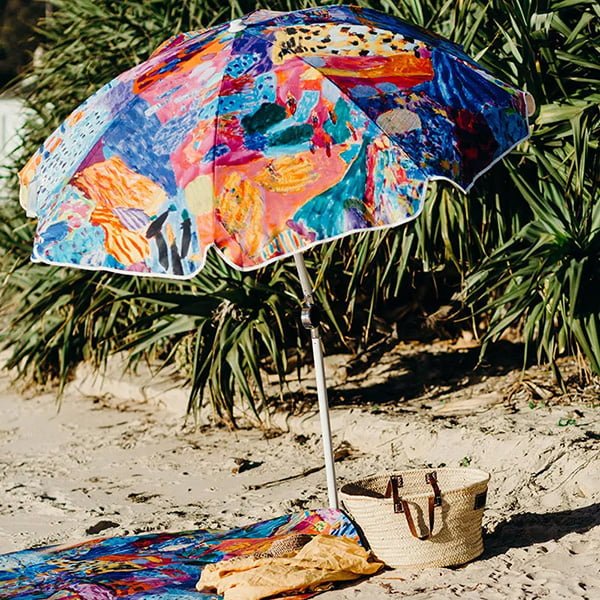 12. Ken Done Beach Umbrella
One of the Ken Done Beach Umbrella's outstanding features is the layered and rich colors that characterize the umbrella's canopy. Additionally, the umbrella's canopy is made with waterproof fabric to keep you dry while you are outside.
With this umbrella, you have easy storage. Due to its compact size, also, the umbrella is very portable and easy to transport.
The umbrella's manufacturers used corrosion-resistant steel to create its frame, which protects your umbrella from rust as long as you use it. Lastly, each Ken Done Beach Umbrella comes with a matching carry case that transforms into a sandbag for windy days.
13. Wondershade Ultimate Beach Umbrella
The Wondershade Ultimate Beach Umbrella is a one-of-a-kind beach umbrella that serves a lot of purposes. It is a very portable umbrella with a removable base. You can also easily set up the umbrella to suit your preferred height (between 3 and 8 feet).
This beach umbrella has inbuilt gust flaps that allow the wind to pass through without the umbrella falling over. It also comes with a tilting feature that shields you from all angles.
Remember when we said the umbrella was one-of-a-kind? Well, this umbrella has a drink holder and hooks for hanging your swim gear or other items!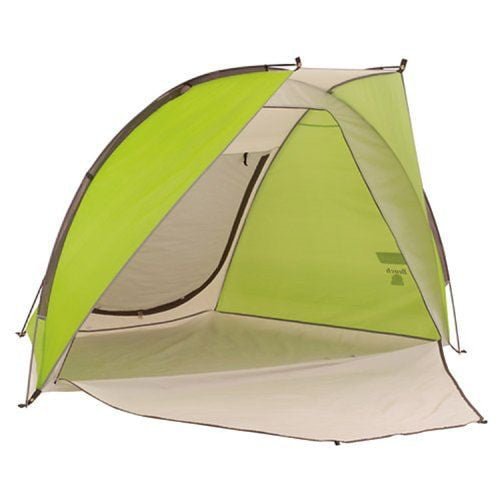 14. Coleman Compact Shade Shelter Beach Umbrella
This 2-in-1 umbrella has the protection of a quality umbrella and the design of a sturdy tent. It has an attached, sealed floor that prevents bugs from getting in while you are relaxing.
Its UPF 50+ protection protects you against sunburn while at the beach. It is unfolded for use and folded up when not in use. If the umbrella gets dirty, hose it down, and it is ready for usage again.
15. Franklin Commercial-Grade Heavy Duty Beach Umbrella
With the Franklin Commercial-Grade Heavy Duty Beach Umbrella, you have no reason to fear damage or spoilage.
Its canopy is built with a marine-grade acrylic fabric that has UPF 50+ sun protection. You can be sure the fabric won't fade over time or get affected by mold and mildew. Its pole is a heavy-duty two-piece Canadian Ashwood pole, making it exceptionally resilient, even in the harshest weather.
Tips for Choosing your Beach Umbrella
In the umbrella market today, there are several manufacturers and types of beach umbrellas out there. If you hope to get the very best beach umbrella, there are some things you need to look out for in the beach umbrellas.
Windproof Feature: When you are selecting a beach umbrella, you have to make sure the umbrella can withstand strong winds. This ensures your umbrella is not blown inside out and destroyed.
Excellent UV Protection: One of the downsides of going to the beach is experiencing sunburns and rashes. A beach umbrella with superior UV protection might be the best choice for you. It would help if you got a beach umbrella with not less than UPF 50+ protection.
Tilt Adjustability: The beach umbrella you end up getting should have a tilt mechanism. A beach umbrella with the ability to tilt is useful because you can adjust it to adequately protect you as the day advances. That is, as the sun changes direction, your umbrella should be able to adapt to protect you at the new angle from which the sun is shining.
Ease of Setting up: You do not want to spend several minutes setting up your beach umbrella when you could be relaxing in the sun. So, to avoid this, your beach umbrella should be easy to set up and dismantle.
Lightweight and Portable: In selecting your ideal beach umbrella, you have to note the umbrella's weight. A heavy beach umbrella could slow you down and reduce your beach day fun. So, if you do not want to struggle with your umbrella while trying to secure a spot on the beach, get a lightweight umbrella.
Support System: The beach umbrella you purchase must have a sturdy support system. The support system must keep the umbrella standing even when the weather becomes windy. A sound support system, sand, or hook, will prevent the umbrella from being blown away.
Conclusion
We have said a lot about beach umbrellas in this article. This includes the best beach umbrellas for 2021 and the tips for choosing the best beach umbrellas. One of the most important things to note about beach umbrellas is to get them from reputable sources. At Huifeng Umbrellas, you can rest assured that you will get quality beach umbrellas. We are also available to customize quality beach umbrellas you can always trust for your protection. Contact us at info@hfbrolly.comto get started.