Companies in today's highly competitive marketplace are always on the lookout for fresh strategies to increase brand awareness and loyalty. Moreover, branded pub umbrellas are an effective outdoor advertising medium.
Let's look in and see how promoting your company with customized pub umbrellas can open up new doors for you.
The Power of Outdoor Branding
Branding in the outdoors is an effective method for companies to make a lasting impression on their customers. Brands may leave a long-lasting impact on consumers by utilizing outdoor areas like bars, restaurants, and cafes.
The capacity to grab people's attention is a major benefit of outdoor branding. Pubs can attract more customers by placing branded umbrellas in prominent locations outside their businesses.
The bright colors and striking patterns will grab anyone's attention and make it hard for them to forget your brand.
In addition, outdoor advertising helps companies reach their ideal clients through targeted marketing. Promoting your business and getting your message out is easier when you choose venues where your intended audience congregates.
Benefits of Branded Pub Umbrellas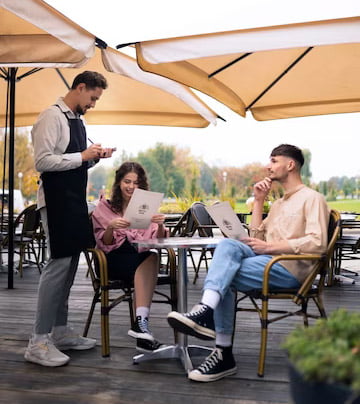 Targeted Marketing Opportunities
Promoting your product or service effectively requires knowledge of your target market. Pub umbrellas with logos are a novel and efficient promotional tool.
You may immediately interact with your target audience by strategically placing these eye-catching umbrellas in outdoor settings like beer gardens, patios, and sidewalk cafes.
Consider the potential exposure your brand would receive if your logo or message was featured prominently on a trendy pub umbrella.
Potential clients who aren't already familiar with your company will have a far stronger visual impression of it after seeing this.
In addition, you may select the locations where your branded pub umbrellas will be placed, providing you with a more focused advertising platform. Your message will be seen by the appropriate people at the right time if you place your billboards in strategic locations, such as around major events or tourist hotspots.
Versatility and Mobility
Printed pub umbrellas are a great option for outdoor advertising because of their adaptability and portability.
These umbrellas have a lot of applications, plus they're lightweight and portable, so your brand can go out to more people.
Pub umbrellas with logos are adaptable promotional items. Pubs, restaurants, and even outdoor events like fairs and markets can all benefit from their utilization.
Additionally, another great benefit of these branded umbrellas is their portability. Because of how compact and portable they are, they are perfect for firms that travel frequently for events or exhibits.
Umbrellas are easily portable, so you can carry your brand's visibility with you to whichever location you set up shop in.
Because of their portability, these umbrellas may be strategically placed in high-traffic areas to increase exposure. You can put your branded umbrella wherever you think it will get the most notice, whether that's near busy streets or landmarks frequented by tourists.
Customization and Brand Identity
The option to personalize also aids in establishing continuity across all points of contact. Your pub umbrella's logo should stand out so that customers know it's associated with your business. This visual association is extremely effective in boosting brand recognition and memorability.
Also, with customization, you can give your pub umbrellas a style that's unlike anything else on the market.
Potential clients will remember you for a long time if you use unique design elements, such as striking typography or cutting-edge layouts, that set you apart from the competition.
Moreover, branded pub umbrellas make for a great visual narrative platform. Customers can be emotionally engaged, and stronger relationships can be made through the use of bespoke designs that tell stories relating to your brand's history or ideals.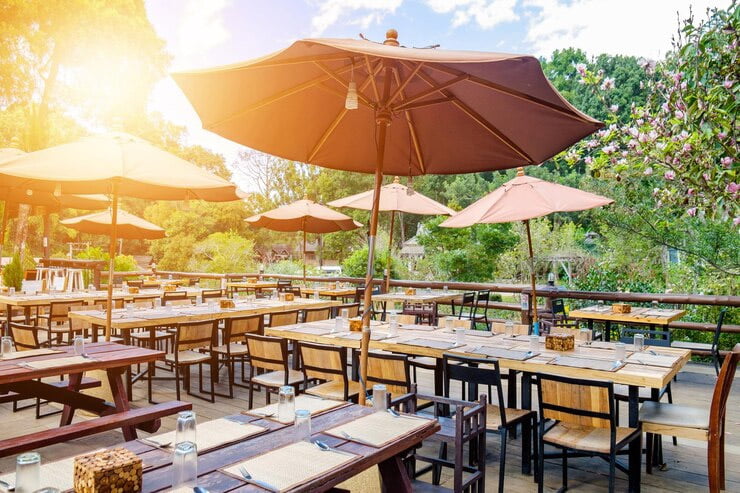 Creative Design Possibilities
Having complete creative control over the style of your branded pub umbrella is one of its most appealing features. Your umbrella will be noticed regardless of whether you go for a bright and colorful pattern or a more understated and elegant one.
Your custom pub umbrella can also stand out by including flashing LED lights and stereo speakers. This has a dual purpose of making your umbrella more useful and more noticeable.
Weather Resistance and Durability
Your pub's branded umbrella can withstand wind, rain, and sunlight with ease. These umbrellas won't fade, tear, or rust, thanks to their superior craftsmanship and materials. This ensures that the message associated with your brand will continue to shine brightly and attract attention for years to come.
Your branded pub umbrella will keep people dry and comfortable in all weather.
Its waterproof canopy effectively shields you from the sun and rain. This makes it so clients don't have to fret about getting wet or sunburned while spending time in the great outdoors.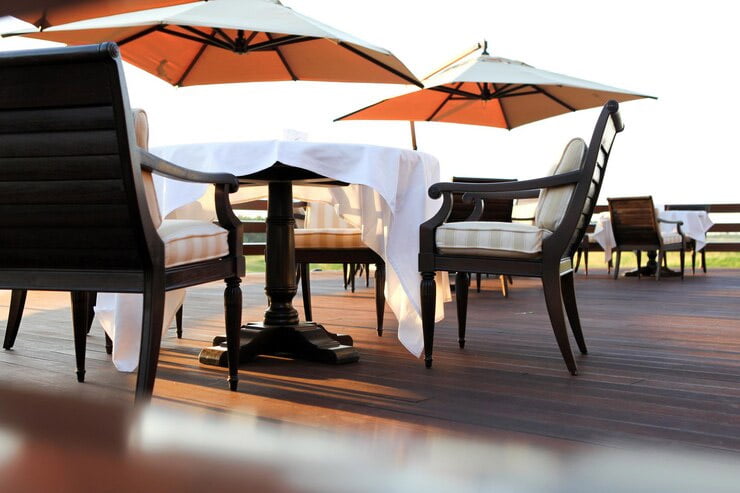 Promotion Round the Year
With branded pub umbrellas, you have the opportunity to promote your brand in any season.
During the warm months, these eye-catching umbrellas provide shade for patrons while showcasing your logo to potential customers walking by. In colder months or rainy days when people might still choose to enjoy an outdoor space, your branding remains visible even in adverse weather conditions.
Not only do these promotional tools offer year-round exposure but they also create a sense of familiarity and trust among customers. When people see consistent branding across different locations and seasons, it builds credibility for your business.
Customers associate reliability and quality with brands they recognize consistently over time.
Types of Branded Pub Umbrellas
There is a wide range of types when you are looking for branded pub umbrellas. Let's explore some popular types that can help you weatherproof your brand.
1. Classic Canopy: The tried and true classic canopy style is always a reliable choice. With its traditional shape and sturdy construction, it provides ample coverage for outdoor seating areas while prominently displaying your logo or messaging.
2. LED Lighted Umbrella: Make a statement with an illuminated umbrella that grabs attention day or night. These umbrellas feature built-in LED lights along the ribs or edges, creating a captivating visual display that enhances your branding even in low-light conditions.
3. Cantilever Umbrella: For maximum flexibility and shade control, consider a cantilever umbrella. This design features an offset pole, allowing the canopy to extend beyond the base and provide shade exactly where you need it most.
4. Windproof Umbrella: Choose windproof umbrellas for your pub's outdoor area if you frequently have gusty weather. These umbrellas won't flip inside out or get damaged from the wind.
Tilt Mechanism Umbrella: Need further control of the sun's glare? If the sun's angle changes throughout the day, you'll want an umbrella with a tilt mechanism to keep the shade where you want it.
Giant Parasol: Perfect for larger outdoor areas or events, giant parasols offer expansive coverage and create a striking visual impact with their size alone.Remember, each type of branded pub umbrella serves different purposes and offers unique advantages depending on your specific requirements.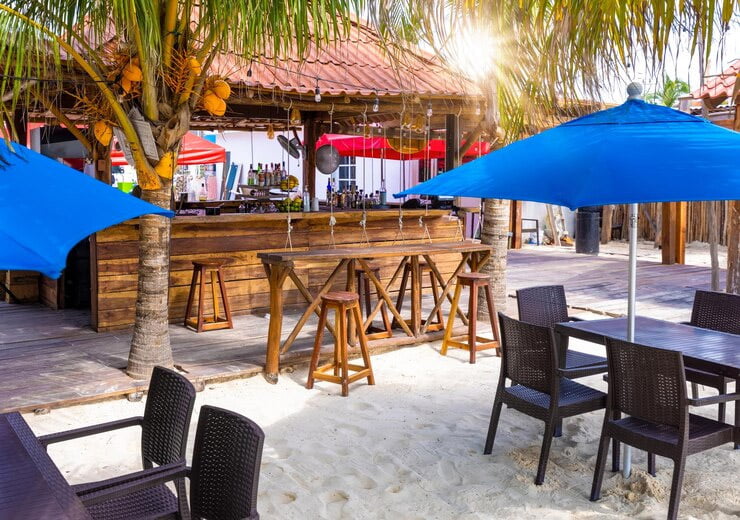 How to Design Your Branded Pub Umbrella
Think about how your brand's colors fit together. Pick up hues that both complement your brand's aesthetic and stand out in natural light.
A strong and colorful design can grab people's attention from far away, while a simple design can give off an air of sophistication.
Next, consider how to work in branding elements like a logo or tagline. In addition to increasing brand awareness, this will also create an indelible impact on everybody who sees it.
You should think about where to put these things so that they are visible from every direction.
You can further establish your brand's visual identity by incorporating non-logo imagery like patterns and photos. Details like this can help your umbrella stand out from the crowd, whether you opt for stripes, polka dots, or a creative illustration.
Don't overlook the Typeface design. The legibility and consistency of your brand's message can be strengthened by carefully selecting the font for any text that appears on the umbrella.
Experiment with various typefaces until you discover one that works well with your layout.
Don't be afraid of being imaginative. Create an umbrella that stands out by using unexpected forms or materials. If you want to make an impression on potential clients, you need to come up with something unique and unforgettable.
How to Market Your Brand with Branded Pub Umbrellas
Think about where you want your branded pub umbrella to go. Pick a busy spot, such a patio, a beer garden, or an outside eating area. This increases the likelihood that many individuals may encounter your company's name.
Take advantage of social media platforms. Get your customers to use your pub's branded umbrellas in selfies and post them online with a specific hashtag. In addition to boosting participation, user-generated content like this can also help get the word out about your business.
To expand your advertising reach, think about forming partnerships with regional gatherings and businesses. In order to get your name out there, you may offer to sponsor an event or give branded umbrellas for their outdoor activities.
You may measure the success of your advertising by comparing the number of customers entering and leaving your establishment before and after you put up branded pub umbrellas. Keep an eye on things like website traffic, sales, and activity on social media to see how this affects brand recognition and loyalty.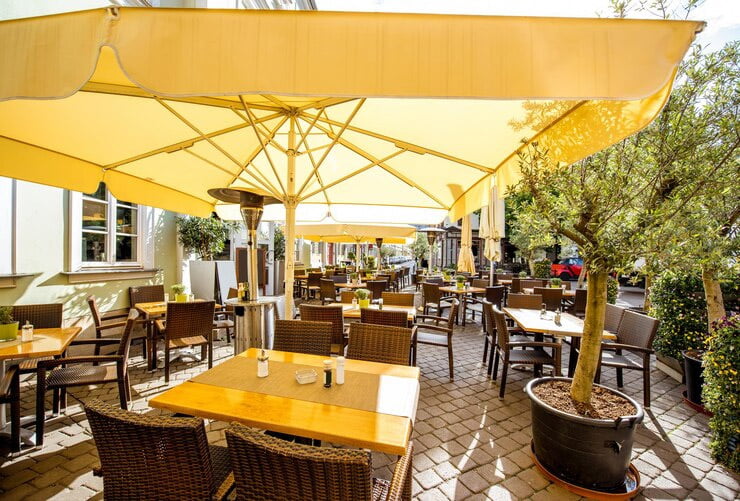 How to Choose the Right Branded Pub Umbrella for Your Brand
The size and form of the umbrella should be your first consideration. Do you need a big, bulky canopy that can't be moved around much, or would a lightweight, compact one do?
The layout and color scheme should be considered next. Your pub umbrella's design should be consistent with your brand's aesthetic and help you stand out from the competition. Think about utilizing contrasting colors or including your logo in the layout.
When choosing a branded pub umbrella, durability is also an important factor. Look for umbrellas that are constructed from sturdy materials that can withstand the elements, such as wind and rain.
Usability should also be taken into account. Pick an umbrella that won't break easily and has a simple button to open it.
Don't ignore financial constraints. Find a branded pub umbrella that fits your budget without sacrificing quality by deciding how much you're willing to spend.
By keeping these things in mind, you can select the ideal branded pub umbrella to both advertise your business and keep your customers dry.
Why Choose Hfbrolly?
Hfbrolly has a wide variety of solutions that are likely to satisfy your branding requirements because of their years of experience in the business, solid reputation for quality, and innovative spirit.
We know how to make your brand stand out in any climate, thanks to the power of outdoor branding.
In addition to being sturdy and waterproof, the pub umbrellas that we sell can be customized to reflect your company's aesthetic in any way you like.
Pub umbrellas of all shapes and sizes are available at Hfbrolly, from classic canopies to parasols and even café barriers. We have your size in whichever design you desire.
Because of their adaptability and portability, they may be used to advertise your business in a variety of settings.
With Hfbrolly, customizing your very own pub umbrella is a breeze. In order to realize your goals, our team of specialists will collaborate directly with you.
Every decision is made with care to guarantee that your umbrella stands out from the crowd, from the choice of colors and materials to the incorporation of logos or designs.
Looking for a free sample or free advice? Send us a message now.