These days, companies have to work more than ever to get noticed by their customers than ever before. No longer can businesses rely on just old-fashioned forms of promotion.
Today, success requires out-of-the-box thinking to grab people's interest and make an impression that stays with them, such as custom printed umbrellas.
Let's learn how imprinted umbrellas can increase your brand's visibility in the market.
The Power of Visual Branding
Visual branding can impress buyers. Visual information is processed better by the brain than other forms of communication. Studies suggest that pictures are better remembered than text.
Visual branding helps marketers connect with their target audience. Visual branding relies on "authenticity" to portray a company's identity and values. By using logos, colors, typography, and imagery that reflect their personality and mission statement, brands may better express themselves.
Well-designed logos instantly grab attention and help consumers distinguish a brand from its competitors. Each hue elicits emotions or associations that can influence potential buyers.
Carefully picked typefaces express the brand's voice and tone while demonstrating professionalism. By visually portraying the brand's values—adventure, luxury, or sustainability—compelling images may tell stories without words.
Custom Printed Umbrellas: Walking Billboards
Custom printed umbrellas are the best way to get noticed. Your brand will be seen by thousands of people every time it rains, thanks to the influx of umbrellas onto the streets.
Custom printed umbrellas not only increase exposure but also help your company's image and values mesh perfectly. Pick patterns and hues that express the spirit of your business. This guarantees that your brand's messaging is consistent throughout all of your promotional efforts.
Corporate gifting programs benefit greatly from the use of custom printed umbrellas as promotional tools. Umbrellas with your company's logo printed on them are a great promotional item because they are both useful and easy to remember. An umbrella is a practical promotional item that will get used regardless of the weather, while other giveaways often go to waste.
Enhancing Brand Visibility
Custom umbrellas can display your logo, slogan, or other branding components due to their vast surface area. Walking billboards grab attention at outdoor events, trade exhibits, and even in employees' and customers' daily lives.
Custom-printed umbrellas also spark curiosity and conversation. When people see your branded umbrella, they may ask about your firm. This boosts brand awareness and improves business image.
Using properly chosen colors, typefaces, and design elements on the umbrella canopy can visually reinforce your business message. Consistency between offline and online marketing boosts brand identification.
Aligning with Brand Identity
Successful advertising rests squarely on the shoulders of a strong brand's identity. All the things that make a brand what it is are included in this concept.
Color scheme, logo positioning, and overall aesthetic should all be taken into account when developing custom printed umbrellas. Customers will remember a brand more favorably if its visuals are consistent and convey the brand's values.
You may, for instance, print your company's bespoke umbrellas with basic, clean designs to reflect the company's modern, minimalist aesthetic. If, on the other hand, your company is full of life and vitality, your umbrella design should reflect that.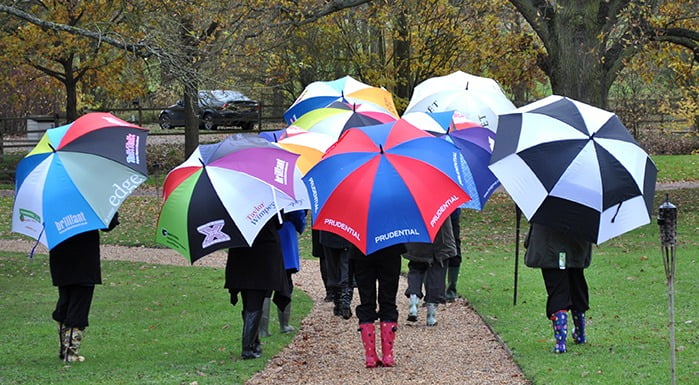 Corporate Gifting and Customer Loyalty
When you give them customized umbrellas, you're doing more than keeping your clients dry; you're also making a personal connection with them. This makes them feel loved and cared for. This creates a more loyal customer base.
And when your customers take their umbrellas out in public, they become living, breathing billboards for your company. People will pay attention to your business because of the creative umbrella design.
Aligning the present with your brand's identity is crucial for effective corporate gifting. Your company's identity can be graphically represented through the use of custom printed umbrellas bearing your logo or message.
Moreover, by selecting premium materials and unique patterns for your custom printed umbrellas, you can make sure they are kept and treasured rather than discarded. This boosts their allure and ensures they'll stick in your mind.
Promotional umbrellas with a company's logo can also be useful in a variety of situations. You can hand them out at conventions and trade exhibitions to generate interest in your company and product while also providing a beneficial service to attendees.
Weathering the Market: Practical and Memorable
Having an umbrella on hand is a necessity in climates with heavy precipitation or erratic weather patterns. Your brand receives unbroken exposure as your customer relies on your branded umbrella in inclement weather.
It's crucial to think about eye-catching design choices when creating custom printed umbrellas. When trying to get people's attention in busy places like city streets or during outdoor events, it's crucial to mix attention-grabbing graphics with concise messaging.
Standout Design Strategies
Standout designs are essential for custom printed umbrellas to attract attention and leave a lasting impression. Design techniques to boost your brand.
Bold Colors: Bright colors quickly draw attention. Colors that match your brand and stand out should be unconventional.
Patterns: Custom umbrellas with distinctive patterns or designs are very unique. Surprise elements in geometric shapes, floral themes, and brand logos grab attention.
Creative Branding: Highlight your logo or message on the umbrella canopy with intelligent branding. To distinguish it from afar, use contrasting colors or smart positioning.
Customization Options: Allowing customers to personalize their umbrellas builds brand loyalty. Personalize with monograms, initials, or unique messages.
Pay Attention to Detail: Unique handle materials, novel opening mechanisms, and built-in LED lighting for nighttime vision can boost your umbrella design.
Who Uses Custom Printed Umbrellas?
Custom umbrellas with store logos are a common form of merchandising. You can find them at outdoor events like conventions and fairs, where they serve a useful role while also promoting the brand's name and values.
Custom printed umbrellas are also used by eateries to set themselves apart from the competition.
These businesses know that customers will still visit them even if it rains. Offering branded umbrellas serves as a discreet yet efficient form of advertising and a practical service to its customers.
Umbrellas with hotel or resort logos are becoming increasingly popular. When staying at a hotel, guests appreciate the availability of quality umbrellas in case of sudden rain. Guests will remember the hotel's name and emblem long after their stay is over because of the attractive accessories they received at the hotel.
Umbrellas with team logos printed on them are another popular item for sports teams to sell as souvenirs. You may express your support for your favorite professional football team or local junior sports team while staying dry and comfortable in one of these custom-made garments.
Fundraisers and other charity events regularly see the distribution of personalized umbrellas by non-profit groups. It's a great way to show your gratitude to supporters while also raising brand awareness by showcasing campaign slogans or logos.
Some examples of such groups are listed below. However, custom printed umbrellas can be a useful tool for marketing for any company.
How Much Does it Cost to Have a Custom Printed Umbrella Made?
Well, there are a few variables that can affect the price.
The pricing per umbrella will vary depending on the total number of umbrellas ordered. Umbrella prices typically decrease as order quantity increases. Ordering in bulk can save money, especially if you're running a massive advertising campaign.
The complexity of the design is a factor in the final price. Additional costs may be incurred if your logo or artwork is particularly complex or requires advanced printing methods such as sublimation or full-color digital printing.
Canopy and handle materials (wood vs. rubber), polyester vs. nylon, and size are all variables that contribute to the final price.
Think about whether or not you'd like a windproof frame or UV protection features added to your custom printed umbrella. These ancillary features may increase expenses but ultimately pay for themselves.
If you want an accurate quote that takes your unique needs into account, you should contact manufacturers directly. Purchasing custom printed umbrellas of good quality is a long-term investment in your company's marketing success.
Types of Custom Printed Umbrellas
The classic stick umbrella is a well-liked choice due to its long handle and broad canopy, both of which ensure complete protection from the elements. The customizable surfaces of these umbrellas make them ideal for advertising purposes.
The folding umbrella is a good option for individuals who need something more compact and portable. Both the canopy and the casing can be imprinted with a company's logo on umbrellas of this sort.
The golf umbrella is another option to think about. Because of their larger canopy and strong build, golf umbrellas are frequently used as promotional items for sports teams and other organizations at outdoor events. The ample room for personalization makes them ideal for making your company's name stand out.
Beyond these standard varieties, you can also get umbrellas designed specifically for use on the beach or a patio. Depending on the situation, each of these choices presents a different branding chance.
Custom printed umbrellas, whether they're large or small, may protect recipients from the sun or rain and are a great way to spread brand awareness.
How to Choose a Manufacturer for Custom Printed Umbrellas
You should start your search for an umbrella manufacturer by looking for one that has experience creating unique designs. Seek out umbrella-making businesses that have a history of satisfying customers with high-quality items.
The degree of personalization they provide is also crucial. Can you select from a variety of colors, designs, and materials? Can they work with custom designs and logos?
Know about their manufacturing capacity. Can they accommodate bulk orders in the time frame you need? Does the company's printing technique guarantee that your designs will be reproduced faithfully? Promotional programs and corporate giving rely heavily on on-time delivery.
In addition, pricing should not be overlooked. Although price alone shouldn't decide anything, it is essential to locate a manufacturer who provides reasonable rates without lowering the quality of their products. Get price quotes from a number of different manufacturers, then examine the differences between them.
Think about what past buyers have said. Determine if customers have expressed pleasure with the manufacturer's products, service, and support in the past.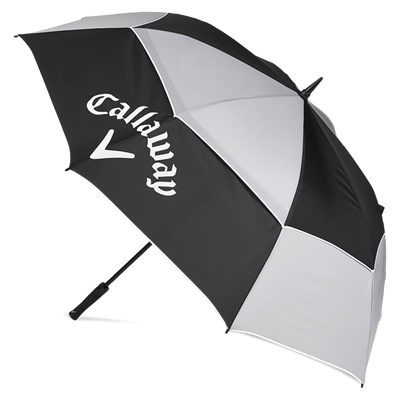 Why Choose Hfbrolly for Custom Printed Umbrellas
After 30 years in the business, we've learned what it takes to make promotional umbrellas that stand out from the crowd.
Our dedication to quality is only one reason you should work with Hfbrolly. We appreciate the significance of maintaining a positive public perception of your company and work hard to ensure that each and every umbrella we make reflects this. The advanced printing methods and meticulous craftsmanship employed are clear indicators of our focus on detail.
The choices for personalization in Hfbrolly are extensive. We can make whatever you may imagine, from simple to elaborate designs and shapes. Hfbrolly offers choices that may be tailored to any need or budget, making it an ideal choice for enterprises of all sizes.
With the help of our helpful staff, you can rest assured that your personalized printed umbrellas will turn out just how you envisioned.
Do you need further assistance with imprinted umbrellas? Get in touch with us and request a custom design at no cost.